Advertising Phu Bai Airport – Thua Thien Hue
Airport advertising is becoming a new trend in the advertising industry today, opening up potential opportunities for businesses who want to increase their brand awareness to customers. Especially advertising Phu Bai Airport – Thua Thien Hue has been chosen by many businesses because of its effectiveness.
 
Introduction to Phu Bai airport
Phu Bai International Airport is located on Highway 1A, within the administrative boundary of Huong Thuy town, Thua Thien – Hue province; 13 km from Hue city center (about 20 minutes by car) to the Southeast.
The coordinates of the airport reference point are the intersection of the heart of the E1 taxiway and the takeoff axis 09/27; identified by the 1984 Global Geodetic System (WGS-84) are: 16º24'02.30 "N – 107º42'2310" E;
The height of the airport reference point above the average sea level is 14.65 m.
Airport location: Phu Bai international airport is located in a relatively flat area, east of the airport, the terrain is relatively low compared to the west. The runway has an average slope from West to East of – 0.4%.
Phu Bai International Airport has a position and an important role in the strategy of economic development, social culture, defense of Thua Thien – Hue province and the North Central region; It is a bridge between domestic and international regions.
At Phu Bai International Airport
On December 29, 2019, the Ministry of Transport and Thua Thien – Hue province will officially start the construction of T2 international terminal and Phu Bai airport.
According to the Ministry of Transport, Phu Bai International Airport which is not only plays an important role in exploiting the available potentials and advantages of Hue, but also creates a driving force to promote economic and cultural development. socializing, ensuring national defense and security for Thua Thien – Hue province in particular and the Central region in general.
Accordingly, to take advantage of new development opportunities for Hue City as well as Thua Thien – Hue Province, the Ministry of Transport and the province will build T2 International Terminal at Phu Bai Airport with a floor area of over 22,000m2, announced on 3 floors (1st floor, mezzanine and 2nd floor); with a capacity to welcome up to about 5 million passengers / year.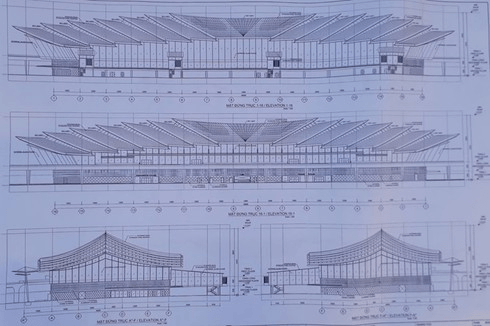 Phu Bai international airport expansion project has a total investment of about 2,200 billion dongs, with a scale of welcoming 5 million passengers / year, including 2 main components: Expanding the apron to meet 8 aircraft parking positions. ; Construction of T2 passenger terminal has a floor area of more than 16,000m2, including 2 elevations, independent departure and arrival passengers linked by the basement and auxiliary items: access roads, parking lots cars, lighting systems, landscapes …
The People's Committee of Thua Thien-Hue Province has just announced a plan to expand Phu Bai International Airport, striving to reach 3-3.5 million passengers by 2020 and about 6.5-7 million passengers / year in year. 2025. Accordingly, Phu Bai International Airport will be expanded and invested in passenger terminal items, takeoffs, taxiways, apron … with total investment of VND 5,560 billion.
It is expected that after commencing on December 29, 2019, the project will go into operation around the beginning of 2021 and meet the travel needs of the people, attracting tourists as well as investors. It also contributes to promoting socio-economic development for Thua Thien Hue province and the region.
Advertising form at Phu Bai airport
Currently, we offer the following forms of airport advertising: LED screens, billboards, ceiling panels, airport doors, pillar lightboxes, fuselage, aircraft dining tables, cabin covers luggage, wall in the plane, luggage trolley, airport wifi, bus from the airport to the city, … With a large number of customers moving from the airport to and picking up relatives at the airport , then airport advertising is a smart choice
 
Benefits of advertising at Phu Bai airport
The airport is a bustling place for people to return – dozens of domestic and international flights in a day. They can be tourists, households, business travelers … extremely diverse and mostly have a low income, if not to mention a number of customers in the high segment.
Advertising at the airport was born to reach such potential customers. Most of the businesses that choose this form of ownership have great value products, such as jewelry, clothing, real estate, vehicles …, will easily attract the attention of viewers. According to statistics, by 2034, there will be about 7 billion people in the world use aircraft as a vehicle for long journeys, this is an extremely impressive figure.
Through the campaigns that we have carried out at major airports, the advantage of this high-class advertising has been summarized and sent to readers as follows:
– Advertising at airports boosts sales for businesses at an extremely fast pace.
– Advertising in the hottest locations of the airport helps increase brand awareness for customers, bringing a large number of potential customers wishing to use its products.
– Help businesses find major business partners.
– The various forms of advertising at the airport makes it impossible for passengers not to pay attention to it.
– Advertising cost at the airport is higher than other forms of outdoor advertising but it is extremely effective.
Read more: 
Nextbrand Vietnam – The leading enterprise in advertising Danang airport
Nextbrand Vietnam has long been proud to be one of the leading companies specializing in providing various types of advertising at airports all over the country, especially Phu Bai airport advertising with reasonable costs.
As a leading company in the field of communications in Vietnam, Nextbrand Vietnam always wants to bring satisfaction to customers. Our airport advertising designs not only ensure aesthetics, creativity, attractiveness, but also convey the message content of short, concise advertising, building brand images for enterprise.
💘 Next Let Nextbrand Vietnam bring your Business brand to more customers!
✍ Register to leave a phone number we will advise you.
💕 NextBrand Vietnam accompanies your success
🏠 Nextbrand Vietnam
Address: Room 602, Mo Market Trade Center No. 459C, Bach Mai, Truong Dinh, Hanoi
➡️Hotline: 0936 737 727 | 024 6668 0000
➡️ Website: nextbrand.com.vn