ADVERTISING ON BAMBOO AIRWAY AIRCRAFT
Bamboo Airway is a "young" airline carrying the mission of connecting tourist lands on the S-shaped strip of land, elevating the image of the country and people of Vietnam on an international map. Bamboo Airways begins the journey of spreading wingspan, with cooperation with the world's leading brands in the aviation industry. Attracting the attention of customers by the beautiful image of both facilities and staff, many advertising campaigns on Bamboo Airway aircraft of brands have achieved success beyond expectations.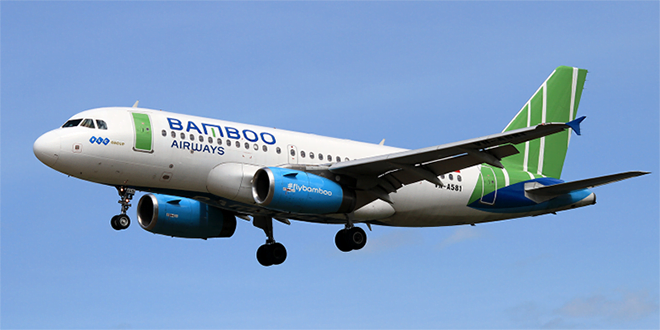 Why should choose advertising on Bamboo Airways aircraft:
– Bamboo Airways of FLC Group has been officially licensed to operate since July 2018. With the development orientation of becoming the first 5-star airline according to Skytrax standards, the customer segment that this airline focuses on is primarily for tourists – those who have a stable income and demand shopping, spending diversity.
– Transporting more than 3 million passengers with the average punctual rate leading the entire aviation industry of Vietnam in 2019 reached 94.1%.
– Also in the first 6 months, Bamboo Airway reported a total of 915,000 visitors. Only in the first quarter of 2019, Bamboo Airway made a total of 1,319 flights. These numbers quickly attract the attention of brands and Bamboo Airway is always targeted in every brand promotion strategy.
– High-quality flight service with beautiful images and service quality towards the standard of "5-star airline" is provided at an affordable cost, higher than Vietjet Air, but still lower than Vietnam Airlines.
– Bamboo Airways has 65 routes, connecting major cities & tourist destinations in Vietnam & internationally, with a frequency of 180 flights/day, serving more than 8 million passengers / year.
Advertising services for Bamboo Airways aircraft are also quickly exploited in many different forms. With the above advantages, advertising on aircraft will be a positive "leverage" to bring investors impressive and different communication plans to uphold the brand's brand and product.
Benefits of using advertising services on Bamboo Airways aircraft?
– Research by advertisers shows that Bamboo Airways ads have limited exposure but are highly reminiscent of customers – In other words, customers see ads on Bamboo Airways Airways will tend to recall products that are seen higher than most other forms of advertising, but the position where the ad is displayed is limited by the flight path of the aircraft.
– In-flight advertising has proven its effectiveness. The Capitol Communication Group (USA) has demonstrated that 81.7% of the people remember or have an impression of the image they see on a vehicle, and 19% remember the image on a stationary object.
– The reason for this high memorization is unclear, but it can be considered as a premise for the difference in the type of advertising on an entirely new advertising tool like this, novelty for viewing. seeing unprecedented advertising messages will help customers remember the advertising message more.
– Advertising aviation magazines is one of the most popular form. The ad was repeated many times on the flight, attracting the attention of millions of customers throughout the hours. Direct ads to different customer segments depending on flight or destination.
Advertising benefits on Bamboo Airways aircraft for businesses
+ Save costs
+ Convey a lot of information
+ Impress with a professional style
+ Reach customers anytime, anywhere on each flight
Forms and benefits of advertising on Bamboo Airways aircraft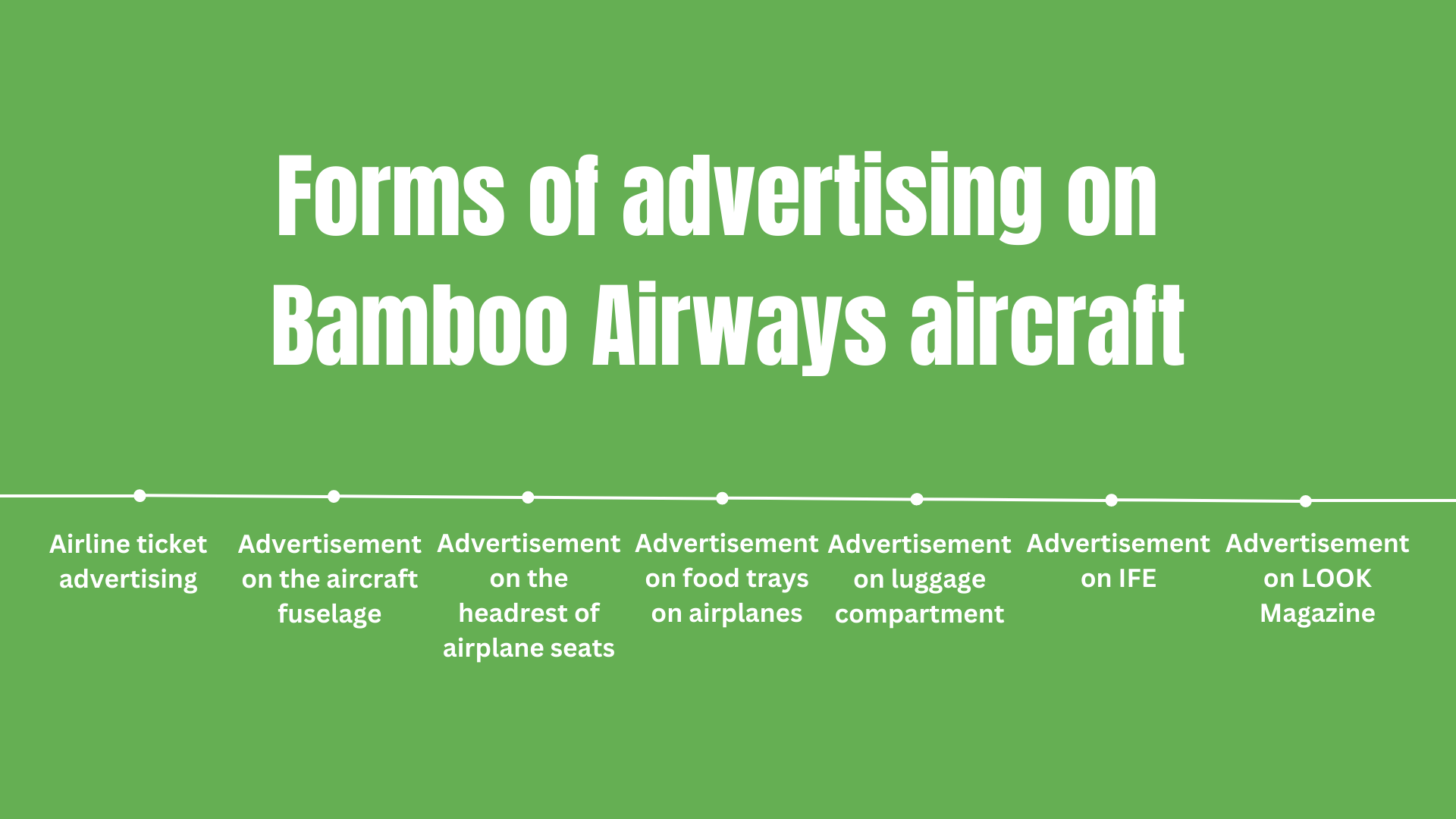 Advertising on the back of Bamboo Airways tickets
+ The ad content is highly received by being printed on the back of the boarding pass.
+ Marquette may change monthly.
+ Size 10 * 20cm, printed 2 colors.
+ Accessibility: more than 700,000 visitors / month.
Advertising on Bamboo Airways' fuselage
+ Advertising logo on fuselage of A320 / A321.
+ 3M Exterior Decal Graphic Graphic Film A7706 (White Polyester Film)
+ Estimated advertising area: 9m2; <70m2 (half aircraft body), <130m2 (including aircraft body)
+ The brand reaches a wide range of customers at the airport including those of Bamboo Airways and other airlines.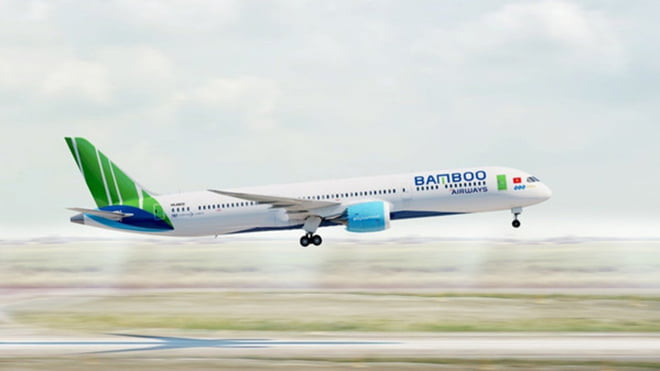 Advertising on Bamboo Airways seat headrest
+ The advertisement content is printed on the plane seat headrest
+ Attracting attention as soon as customers board the plane.
+ Ad position closest to potential customers.
+ Marquette ads may change every 3 months.
+ Accessibility: more than 700,000 customers/month.
+ Specification: 20 * 30cm, waterproofing, anti-slip, 4-color offset printing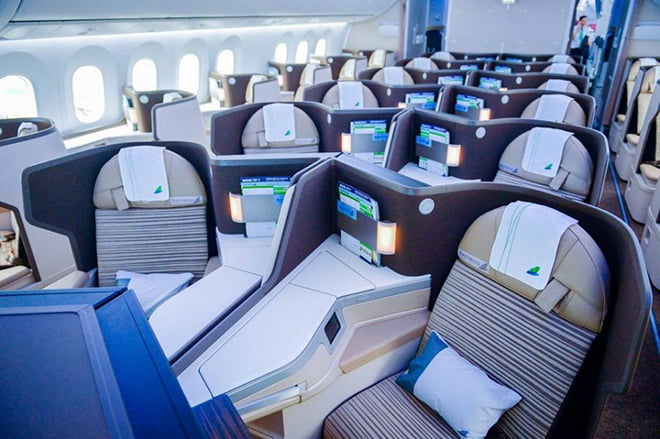 Advertising on Bamboo Airways kitchen table mats
+ Advertising on board paper tray on the plane containing eye-catching Artwork or brand logos of businesses to attract customers in the best way
+ Size 20 * 30cm on waterproof paper, anti-slip, offset printing 4 colors.
+ Marquette ads may change every 3 months
+ Accessibility: more than 700,000 customers / month.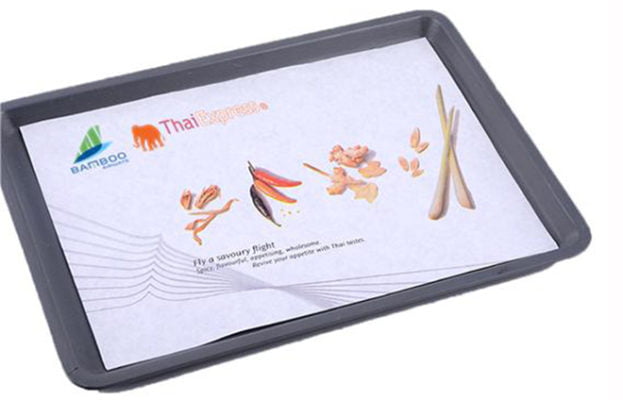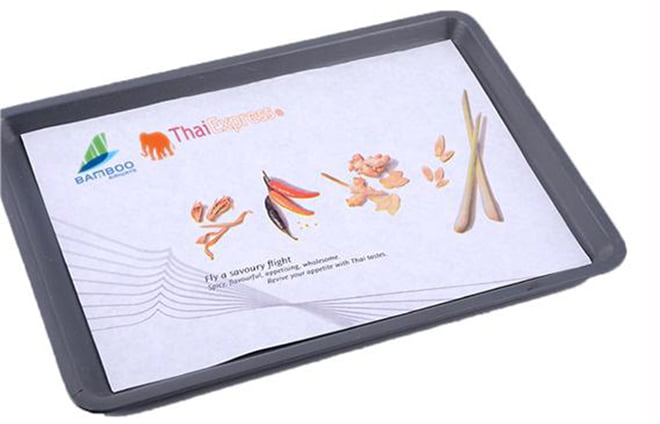 Advertising on Bamboo Airways food containers
+ Advertising on the Food Container Box contains eye-catching Artwork or brand logos of businesses to attract customers in the best way.
+ Accessibility: more than 700,000 customers / month.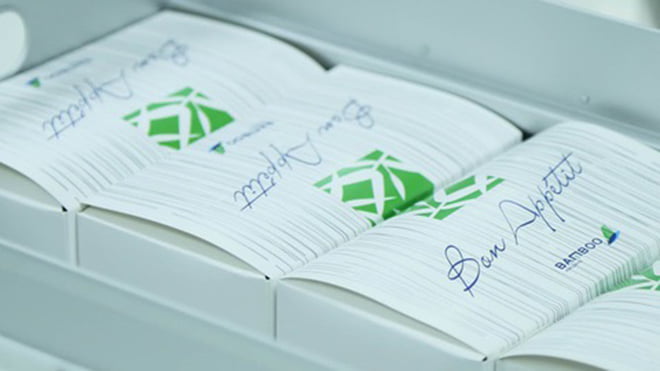 Advertising on Bamboo Airways luggage cabin
+ The advertisement is printed on the cabin running all the way inside the aircraft.
+ Attracting customers, long time interactive ads.
+ Size ~ 101 * 31 cm; 4-color printing on Rigid Polycarbonate FR Grade Film
+ Marquette ads may change up to 3 months/time
+ Easy to place ads in the eyes of the customer.
+ Accessibility: more than 700,000 customers/month/aircraft.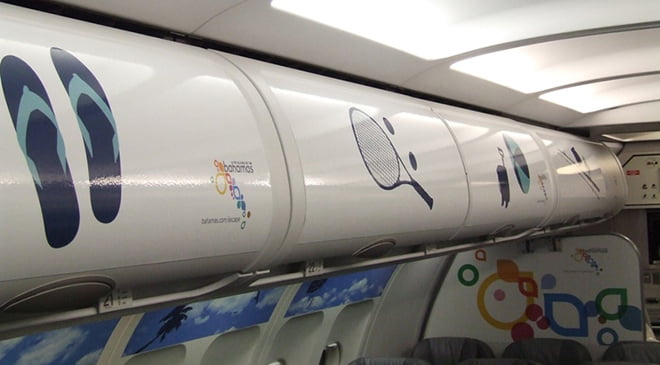 Advertising on IFE Bamboo Airways
+ Can format ads to target potential customers (view only, clickable ads, lead ads).
+ Ads are displayed flexibly & diverse in size and can display in many positions (pop-ups, top banners, in-stream videos …).
+ Customers receive advertising in a relaxing environment.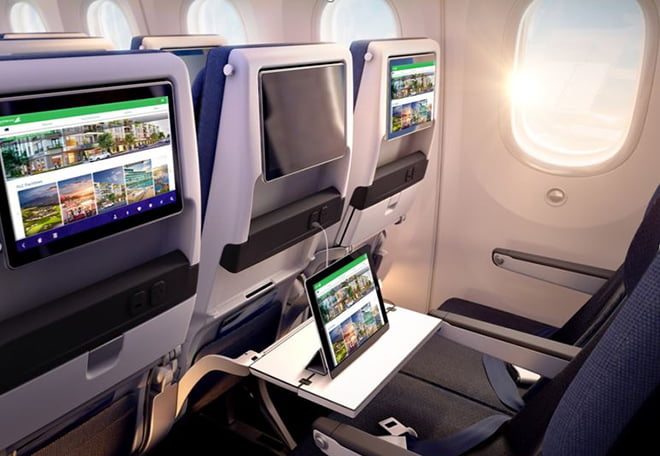 LOOK magazine ad on Bamboo Airways
+ LOOK Magazine is present on every seat of all Bamboo Airways flights, on Bamboo Airways' lounge system at FLC Group's airports, resorts and 5-star hotels across the country.
+ The only entertainment on each flight (of Bamboo Airways) – "forces" readers to be exposed to advertisements. The form of aviation magazine advertising maintains coverage to millions of readers
+ LOOK Magazine book exclusively for Bamboo Airways flights
+ Website version, mobile app & social network available.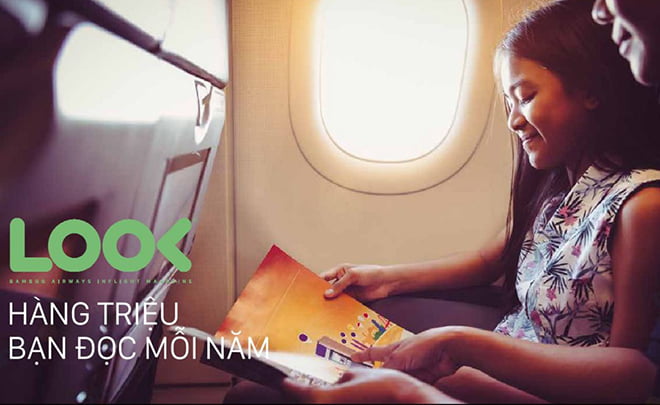 How does your brand appear to advertise on Bamboo Airways?
Bamboo Airways aircraft advertising service is provided and deployed by Nextbrand Vietnam – proud to be one of the leading advertising agencies in Vietnam. Nextbrand makes it easy for advertisers to find the right airline and capture a good location. A team of highly qualified consultants, years of experience and relationships are always available to answer questions and respond to all customer needs. Our airport advertising designs not only ensure aesthetics, creativity, attractiveness, but also convey the message content of short, concise advertising, building brand images for your business.
View more:
QUOTATION: ADVERTISING SERVICES ALL AIRPORT IN VIETNAM
Let Nextbrand Vietnam bring your Business brand to more customers!
Register to leave a phone number we will advise you.
NextBrand Vietnam accompanies your success
Nextbrand Vietnam JSC
Address: Room 602, Mo Market Trade Center No. 459C, Bach Mai Street, Truong Dinh Ward, Hanoi
Hotline: 0936 737 727 | 024 6668 0000
Website: nextbrand.com.vn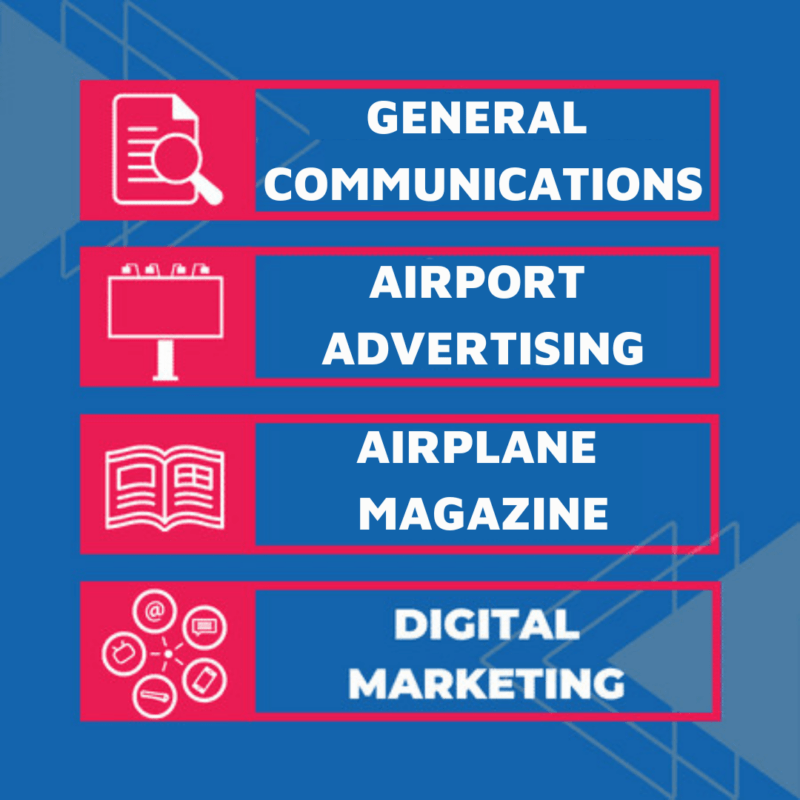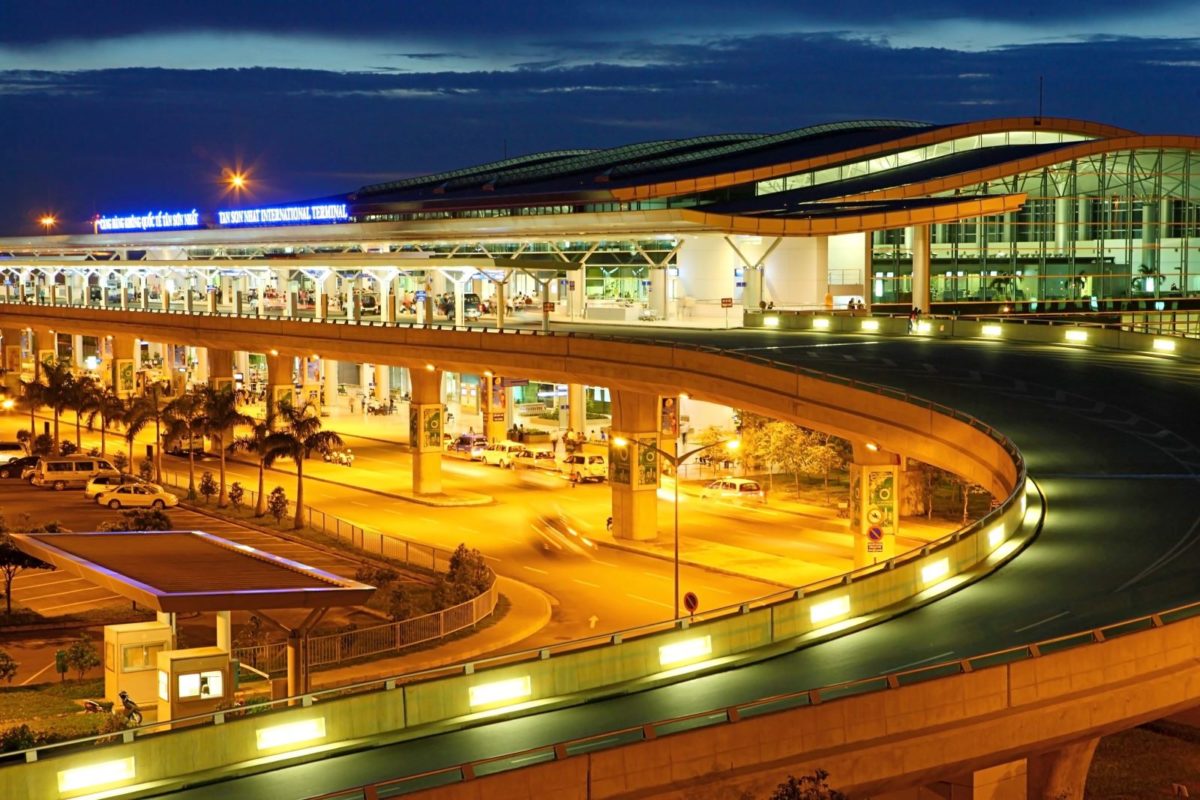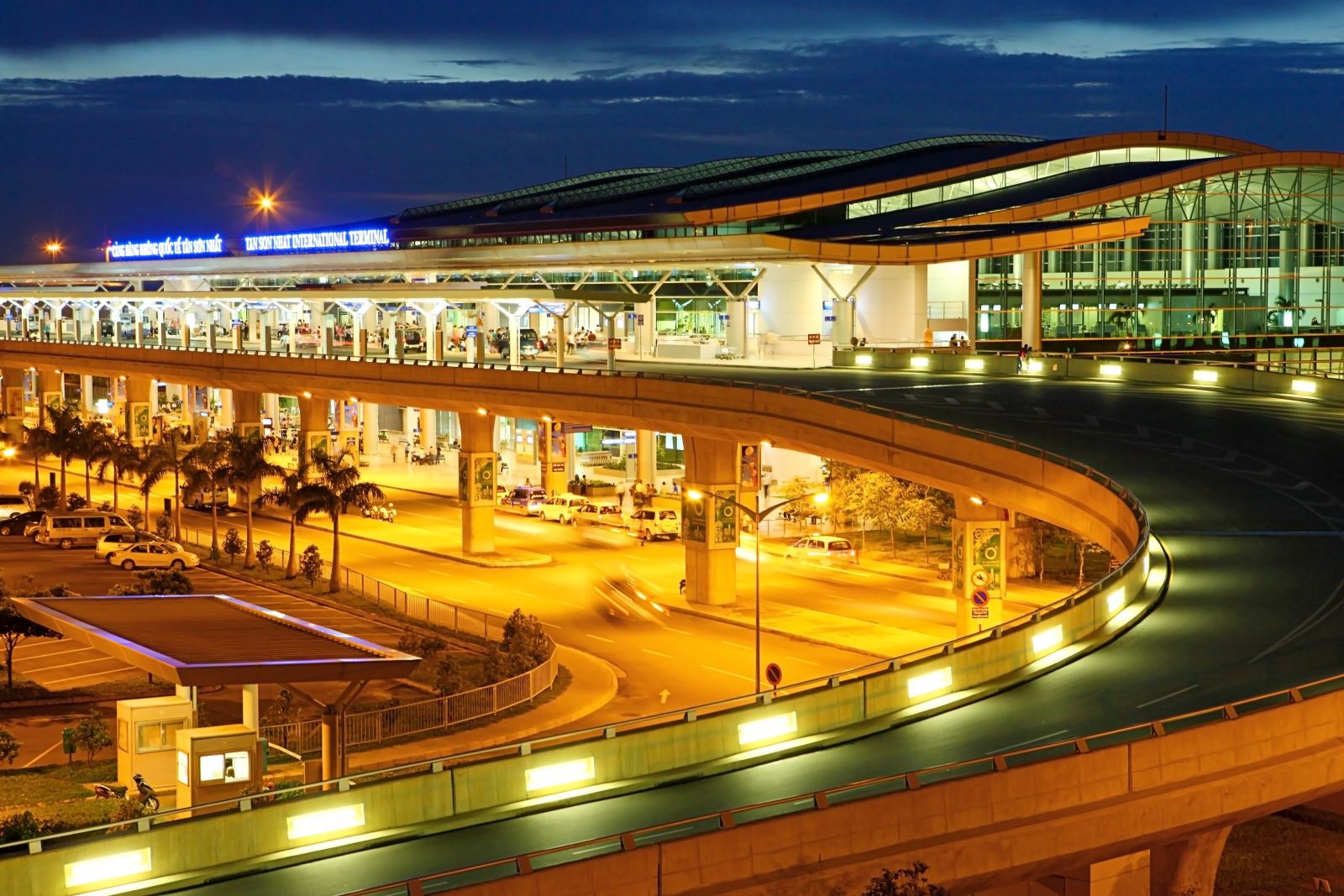 Advertising at Noi Bai airport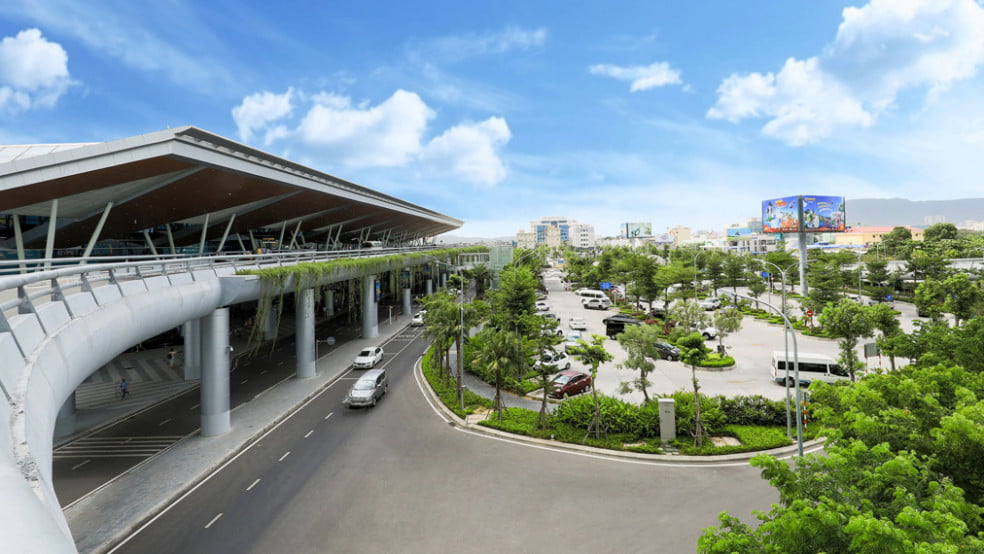 Advertising at Da Nang airport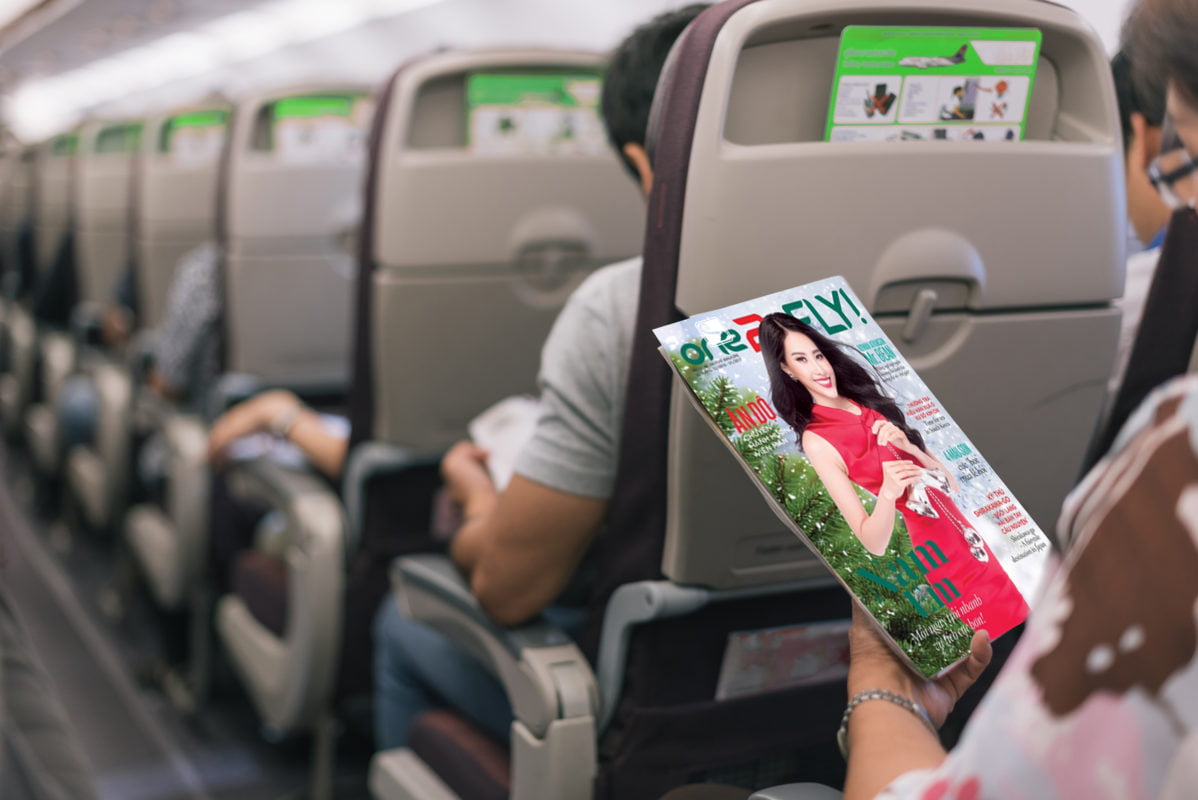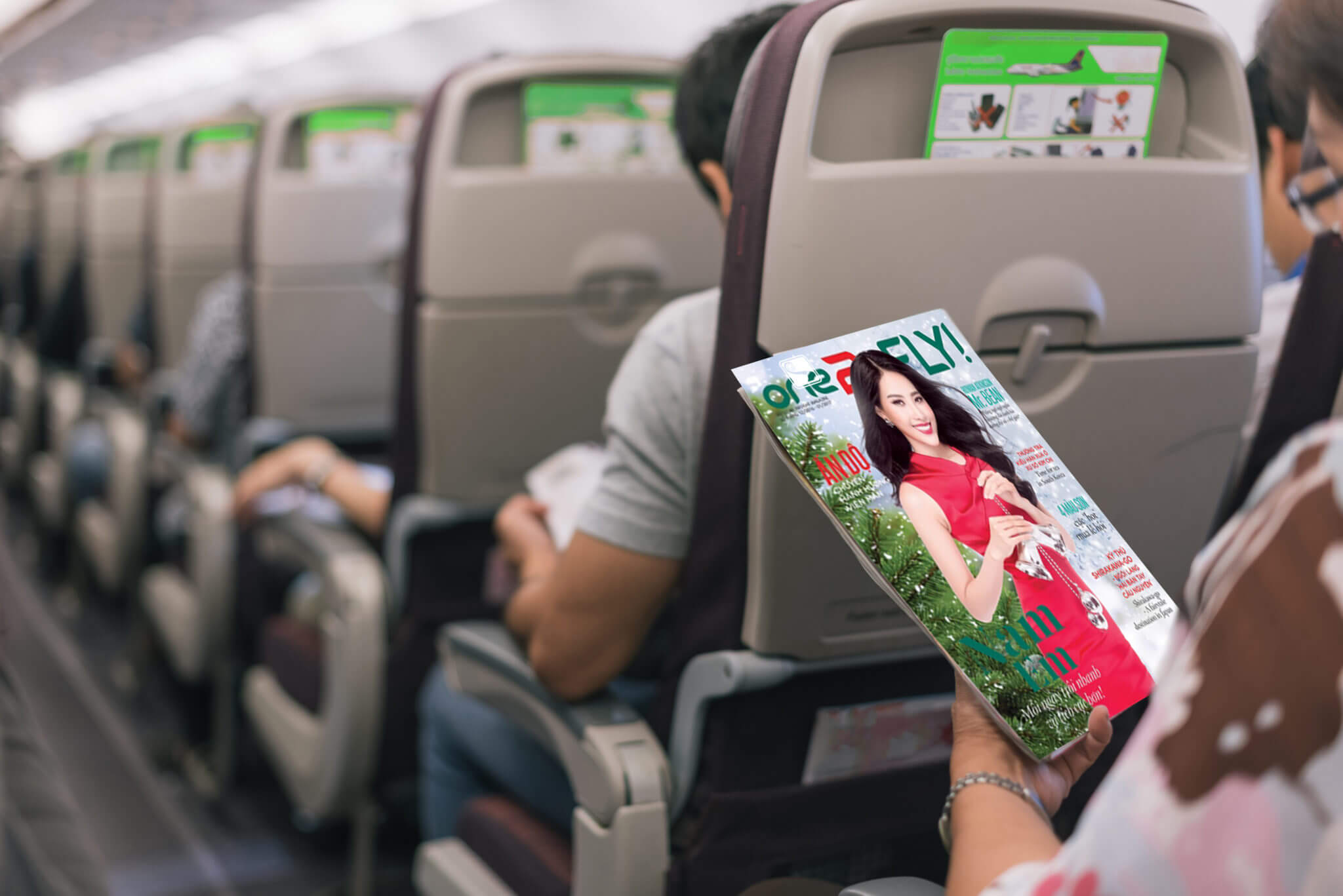 Airport magazine advertising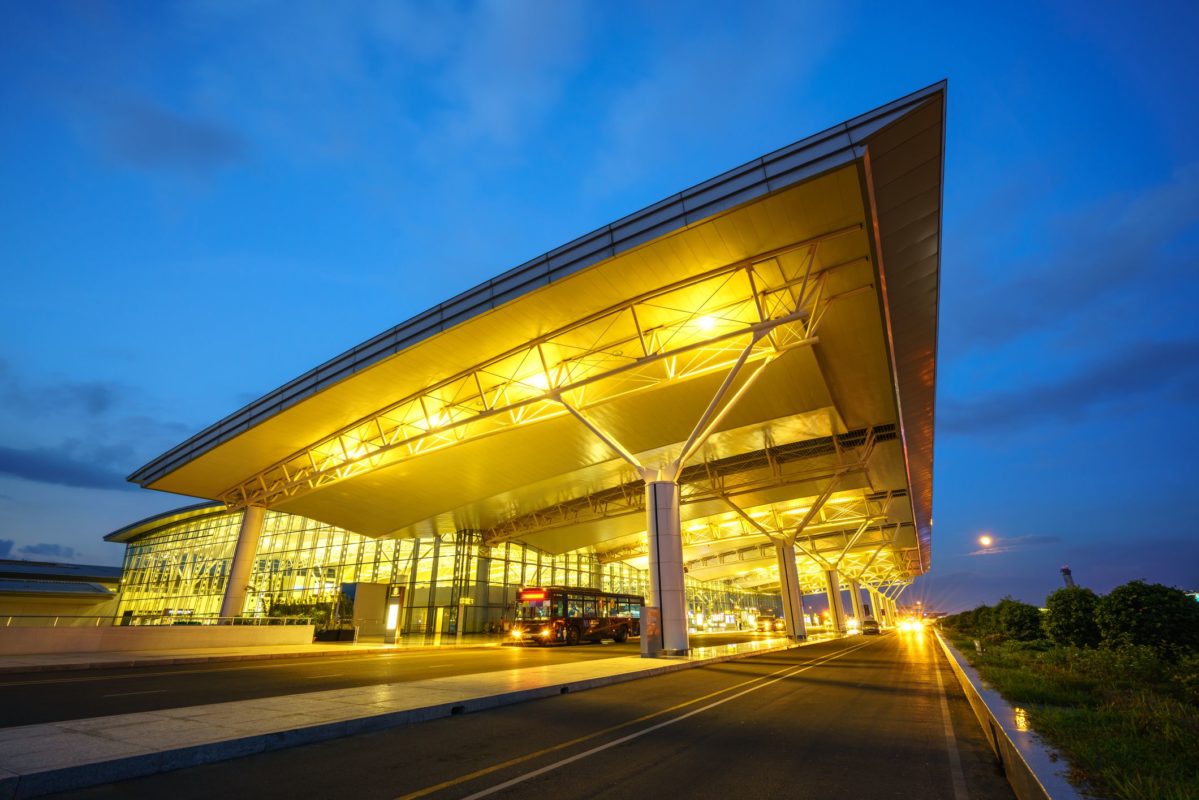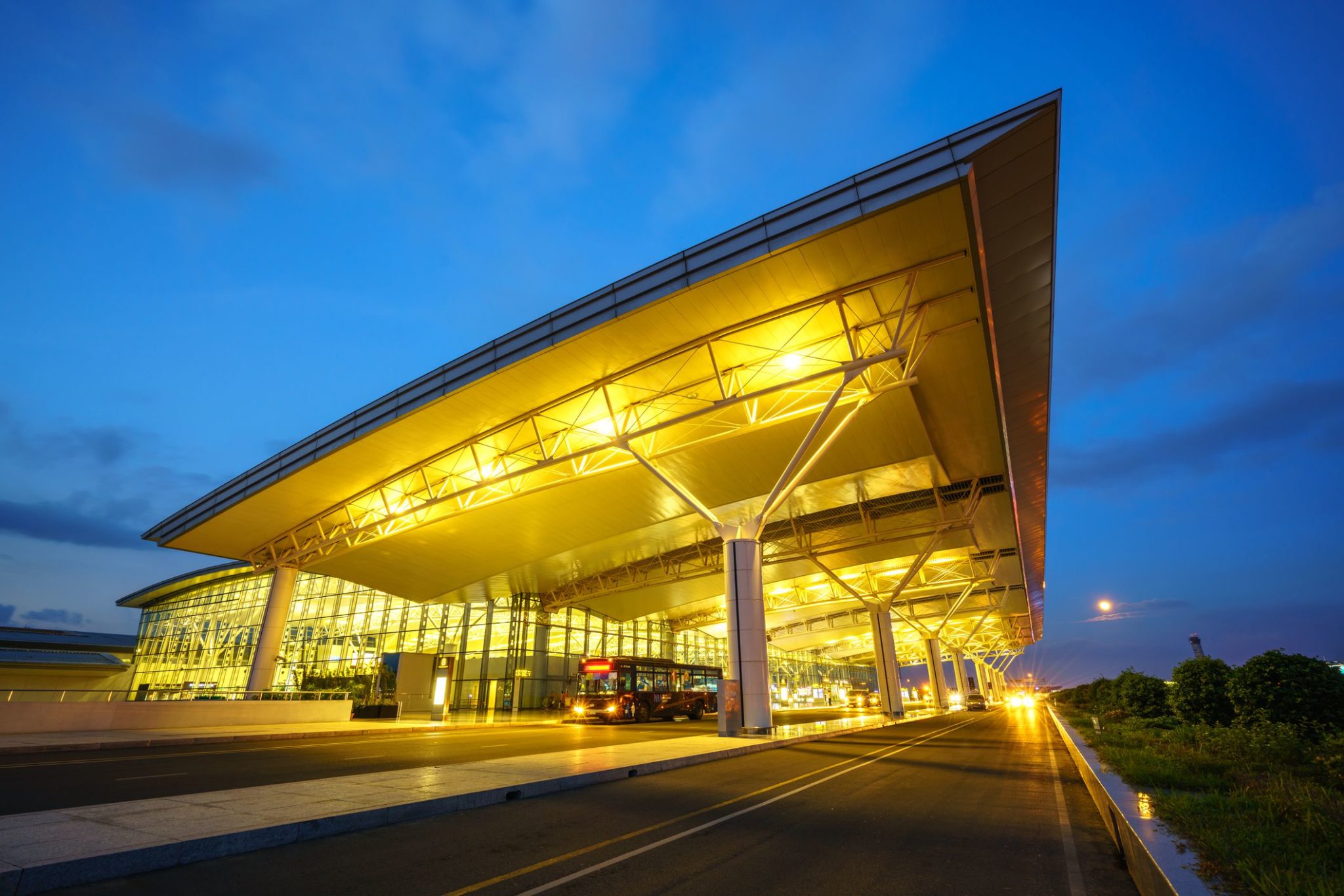 Advertising at Tan Son Nhat airport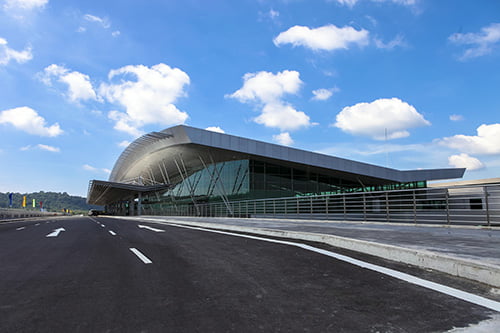 Advertising at Phu Quoc airport