Today, advertising trends are gradually moving in new directions, new effective means quickly and easily reaching customers. Advertising in the airport area is becoming a potential opportunity for businesses who want to increase their brand awareness to customers. Especially advertising Danang Airport has been chosen by many businesses because of the special effectiveness that it brings.
Introduce about Danang Airport
Da Nang International Airport is one of the three most important and largest airports in the country, serving as the central airport of the Central region. Da Nang International Airport is located in Hai Chau district, 3 km from the center of Da Nang city, with a total area of the airport area of 842ha, of which the area of civil aviation is 150 ha. This is an important flight point for Central Vietnam and the whole country.
Da Nang International Airport is the largest airport of the central region – Central Highlands of Vietnam.
Da Nang International Airport is located in Hai Chau district, the center of Da Nang City 3 km, with a total area of 842 ha airport, in the area of civil aviation sector is 150 ha.
This is an important point of flying in Central Vietnam and the country.
Visitor numbers through 2012 was 3,090,877 passengers and 4,411,412 passengers in 2013.
Activity
There are four domestic airlines and 13 international airlines fly to Danang International Airport. From Da Nang has 9 domestic routes, 25 international routes.
New passenger terminal
Date 15/12/2011, a new international terminal was opened and served the first flight. New terminal Danang International Airport by Airport Corporation Central aviation as an investor, is starting construction on June 24/12/2007 with total more than 1,345 billion VND and was officially put into operation on 15/12/2011. The station was built on an area of 14,500 m2, consisting of three floors and a basement with a total area of 36,600 m2 using. The area of each functional area eligible to serve 6 million passengers / year (standards prescribed by the International Air Transport Association (IATA).Ensuring aesthetic requirements and fit central climatic conditions, load level 7 quake. In addition, there are special devices such as baggage handling systems, aviation 5 telescopic café, 6 escalators speed of 0.5 m / sec, 11 lifts load 1000-2000 kg, the system dedicated avionics and aerospace auxiliary systems such as lighting, water supply, air conditioning, power plant systems solar …
With 40 stalls procedures and other modern amenities, ensuring the new station serves 4 million visitors each year and from 6-8 million passengers / year from 2015 onwards. Airports Corporation of Vietnam (ACV) has plans to expand the research station to reach 10 million passengers / year by 2020.
At the Da Nang International Airport
Passengers:
– International: 3 million / year
– Domestic: 6 million / year
Customers:
– Businessmen, merchants, officials, business leaders.
Target:
– Brand Positioning
– Rebranding
– Reaching target customers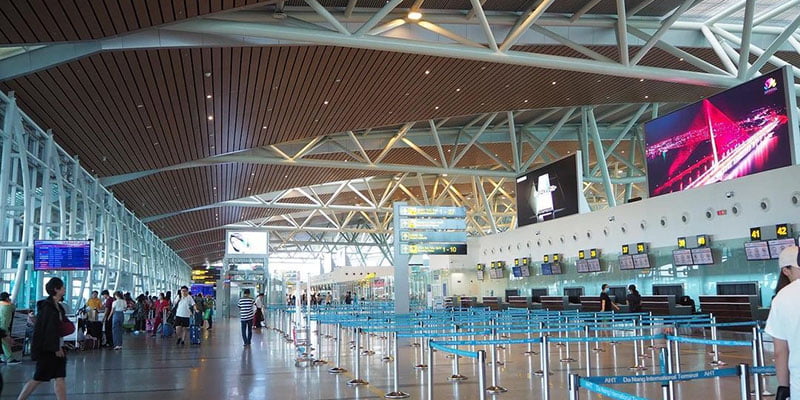 At Danang International Airport
By the end of 2018, the number of passengers at Da Nang International Airport was 13.3 million / year. In the first 6 months of 2019, domestic passengers via T1 terminal and Da Nang international airport reached 4.17 million, expected to reach about 8 million domestic passengers throughout the year; International passengers through T2 terminal reached 3.43 million (up 25% compared to the same period in 2018), it is expected that more than 7 million international passengers in 2019 will surpass the terminal design capacity (4 million visitors/year). Therefore, the advertising at Danang Airport will help businesses position the brand, affirm the brand, reach a large number of customers. At the same time, advertising Da Nang International Airport is also a frequent place for leaders, business people, senior officials, merchants … so businesses can reach this potential clients.
Advertising form at Danang Airport
Currently, the advertising models at the airport are bringing high efficiency such as large billboards, lightbox, Led screens, banner … in waiting areas, public areas …. All customers when going or returning, or waiting for relatives and friends must go through this area so this is a convenient location and convenient for advertising. Therefore, advertising the airport in these areas will attract the attention of many customers and extremely effective.
The advertising at Danang International Airport will help businesses advertise their brands in the most convenient and effective manner, and businesses will reach a large number of customers.
Through the above information, the number of clients that access the airport advertising is huge. For customers Head of State, businessmen, leaders and cadres of the business is a potential customer to your brand towards. As such, we can see the number of tourists through increasing every year. Advertising at Da Nang airport is a brand promotion channel can not be ignored.This is where good natural conditions, many beautiful beaches, mild climate suitable for the organization of events national stature and regional. Attract heads of state, directors of large companies, entrepreneurs to attend this great event and resort.
Advertising at Danang airport, what benefits?
– Confirmed the level of the Enterprise brand
– Promote the image and brand of the Company to the domestic and foreign partners
– Ad placements pretty to customers impressed with the product's Enterprise
– There is a good chance to reach the group of foreign direct investment and trade delegation
– Is where customers stopoverlong can the conditions choose and decide product of the Enterprise easily
– Attract the attention of customers with direct vision
– Attract target customersthrough whichbring efficiency marketing highly for Business.
Advantages of advertising at Danang Airport
With the superiority of elegance and eye-catching, the position of businesses when choosing Da Nang Airport advertising will be raised to a new level. The trust of customers will strengthen the business to position its brand to customers.
At the same time, with the work flow in today's society, customers often do not have too much time to reach traditional advertising channels such as books and television. However, when choosing to advertise Da Nang Airport is different. With a long wait time for procedures. Customers can easily pay attention to the billboards. Therefore, businesses should choose eye-catching and impressive advertising methods to attract customers' attention:
– Affirming the brand level and reputation of the business
– Promoting brand, image, message to domestic and foreign partners quickly and professionally
– Advertising in beautiful locations, helping customers