Advertising at the Airport (Airport advertising) is certainly no stranger to us, you can see in every corner of the airport there are advertising images of brands from familiar to high-end. So what are the benefits of advertising at the airport, let's find out in this article!
What is advertising at the airport?
Advertising at the airport is a form of conveying message content (whether it be through words, images, or video clips) through various media placed at the airport or through available objects at the airport, such as billboards, LED screens placed in various locations, and objects used by airport visitors such as charging stations and carts.
Airports are places where people often gather, and airport passengers usually have long waiting times during which they observe their surroundings repeatedly. Therefore, the airport is an ideal place for many brands and businesses to carry out their advertising campaigns.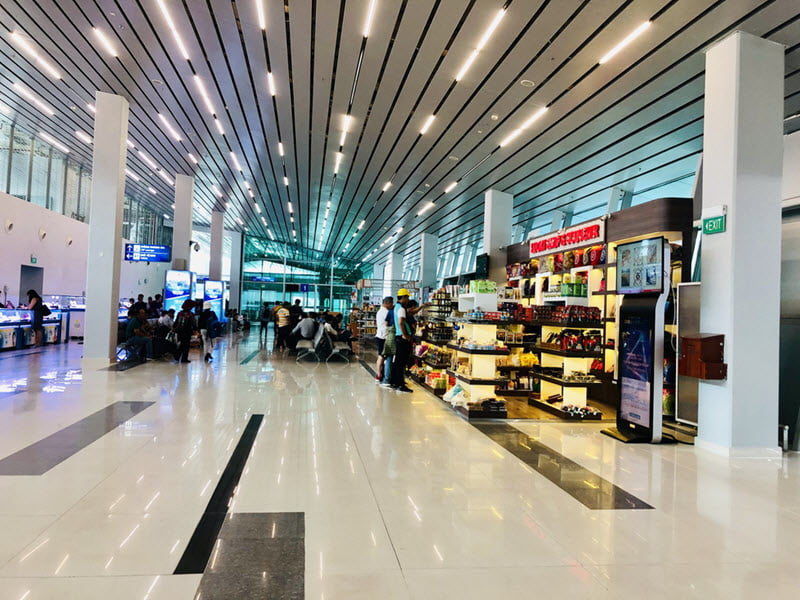 The type of airport advertising has many outstanding advantages, such as reaching a high-end customer group (foreign tourists, businessmen, business owners, celebrities, etc.) – a group that other types of advertising cannot meet – and customers actively viewing advertising (not being "forced" like advertising on social media or YouTube).
Due to the outstanding advantages of advertising at the airport compared to other forms of advertising, the cost of implementing advertising services at the airport is relatively expensive. This is the only drawback of this type of advertising, so businesses should carefully consider their advertising budget before making a decision to implement it.
Benefits of advertising at the airport
As airports are the destination for people from across the country and other international guests, advertising at the airport also targets a diverse range of audiences. Those who come from different provinces and cities, mainly people with relatively high incomes, with a diverse range of professions, ages, and backgrounds.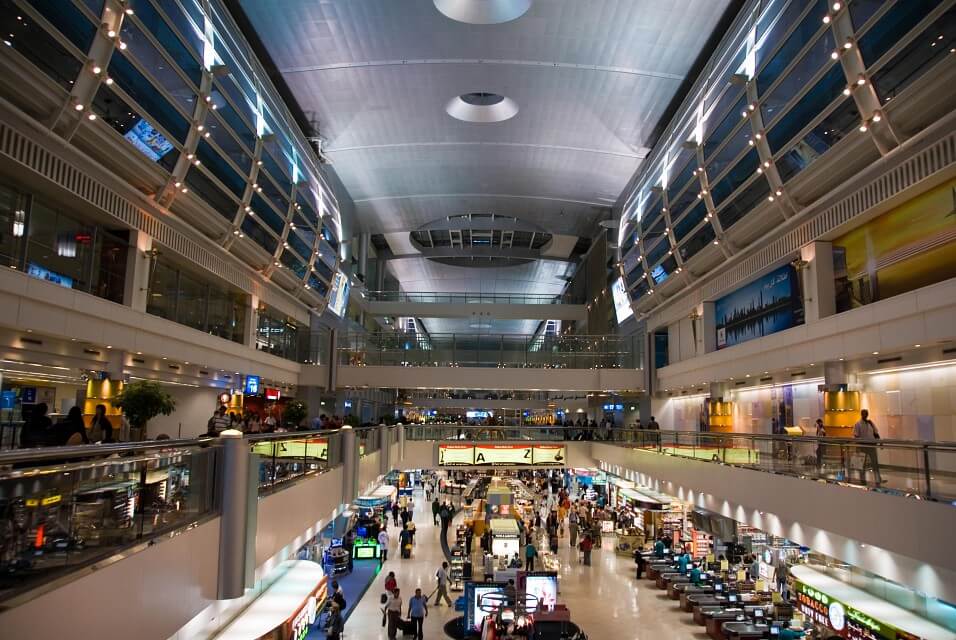 This is very beneficial for businesses if they advertise at the airport because they can not only reach current target customers but also have the potential to reach potential customers in the future, the customer groups that the business is currently missing out on.
Enabling businesses to freely innovate
Due to the large size of the advertising billboards at airports, it is also an opportunity for content creators to showcase their most unique and attractive advertising ideas. Airport advertising allows businesses to freely innovate.
Suitable for both B2B and B2C businesses
Advertising at the airport can benefit both B2B and B2C businesses as airports are a familiar place for executives of companies who travel frequently, making it easy to reach this target audience. Additionally, airports are a place where people from all industries come for travel, making it easy to reach these target audiences through advertising.
Approaching the target audience in a positive state
A business traveler said that at the airport, they felt excited about their upcoming trip. Also, people are generally happy when they are about to embark on a holiday. This is very advantageous for advertising because advertising will be most effective when the person is in a positive mood. At this time, advertising is more likely to be successful.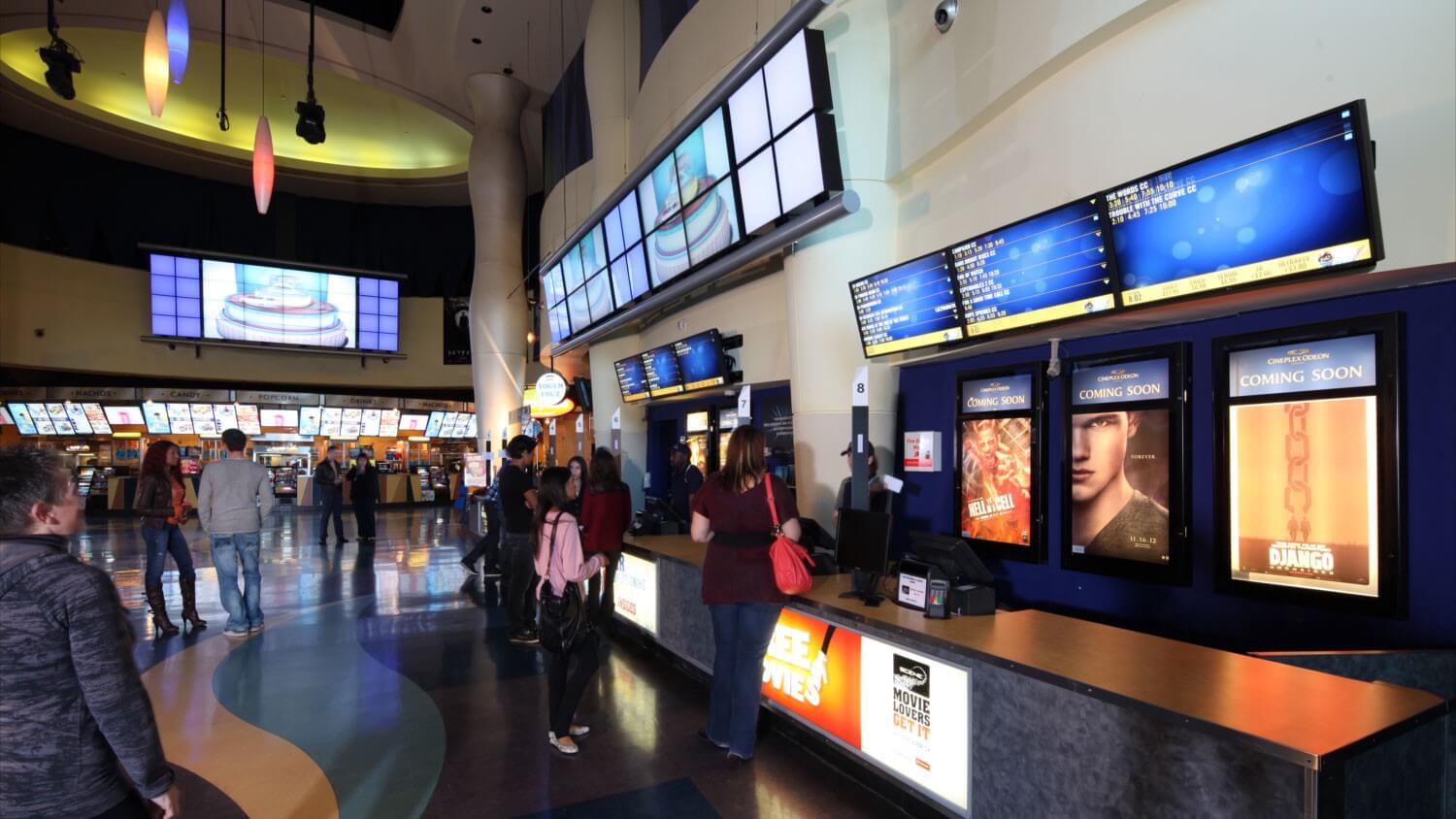 Extending exposure time to advertising
Due to the waiting time for check-in and boarding, there is a lot of "dead time" when someone is flying. During these idle times, they have more time to observe and remember the images and words around them more deeply. Therefore, the chances of the target audience receiving advertising content from the airport area are very high.
Enhancing the brand image of the business
It can be said that unlike bus stations, airports are a place for different, more high-end, and higher-income customers, where everything is tidy and classy. International airports represent the face of a country, so advertising service businesses are also elevated in terms of their brand, becoming a reputable brand in the eyes of customers.
In addition, the businesses that use this form of advertising are mostly large and reputable businesses. If your advertising is placed next to theirs, customers automatically assume the credibility of your business.
Ability to immediately increase frequency of contact
As with street billboard media, the frequency of exposure to advertising depends on the number of times a person travels on the road. But for advertising at airports, it is different. A business can use multiple advertising media along the passenger's journey to the airport, making the public unable to avoid exposure to advertising and being exposed many times, making it memorable in their minds.
For example, a business can arrange advertising at the airport as follows: a billboard at the airport entrance, then at the check-in counter, the same advertising is placed in the form of a standee, in the waiting room, another billboard carries that message, and even the baggage cart is decorated with advertising messages. This makes passengers view advertising multiple times, with such a high frequency of appearance that they remember the advertising information more deeply in their minds.
Common forms of airport advertising
Billboard advertising at the airport
Billboard advertising at the airport is extremely diverse in terms of location, size, and hanging method. There are many points to hang billboards at the airport. The closer to the center, the more people passing by, and the larger the area, the more expensive it will be. Typically, billboard ads at airports will appear in parking lots, near the entrance gate, or more densely on both sides of the airport entrance road.
Airport billboards come in many forms, including those that are mounted on walls, hung from ceilings, or placed on the ground. Each form has slightly different requirements for information and images, depending on the business's choice, so that the advertising sign is appropriate for the company's message and achieves maximum effectiveness.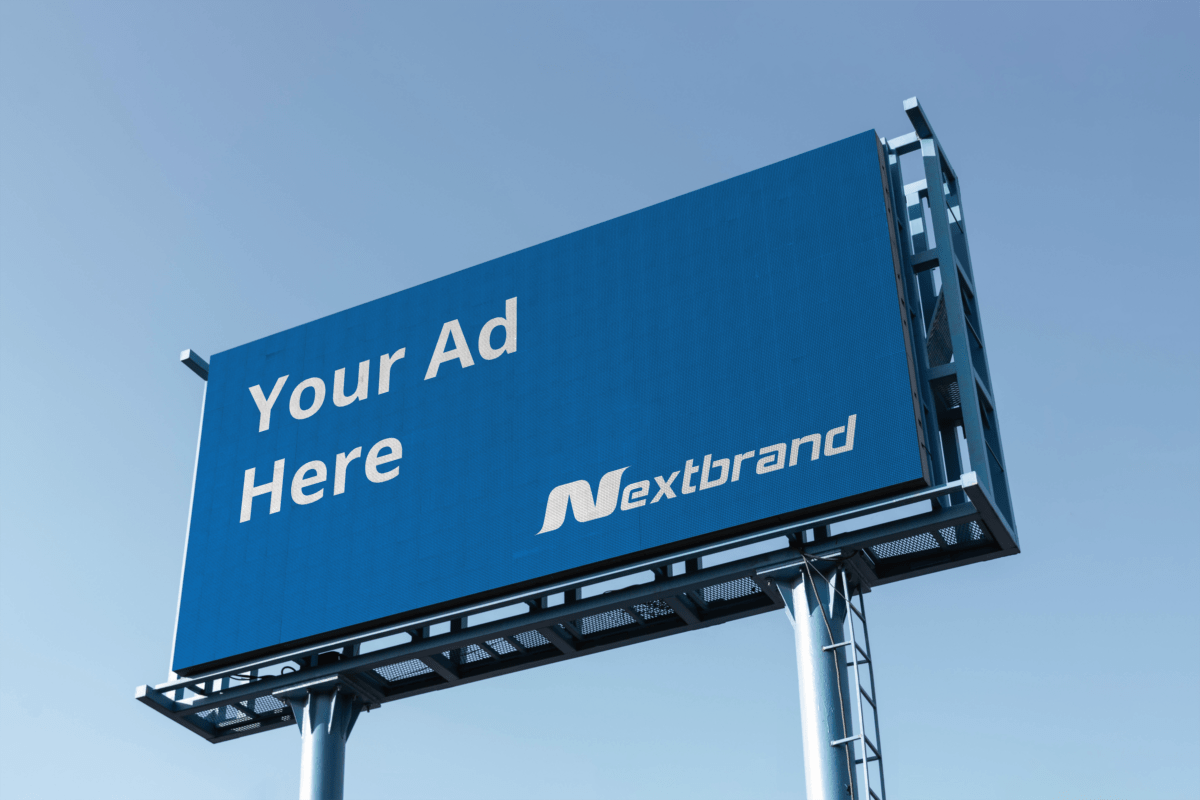 As this advertising form is installed outdoors, the material chosen for the outer frame is made of metal and covered with Hiflex canvas, a common material used for outdoor advertising campaigns that is both durable and able to withstand environmental impacts. In addition, the Metal lighting system has the ability to provide optimal lighting at night, ensuring that anyone passing by will be attracted to this advertising form.
Billboard advertising at airports is similar in size to regular billboards, but is installed inside the airport and hangs from the ceiling at a reasonable height. They are typically installed in crowded and spacious areas such as waiting halls, arrival and departure gates, etc.
Due to their large size and height, billboard advertising at airports can be seen even from a distance, making it highly effective even if it is not installed in many locations at the same time.
LED screen advertising at the airport
LED screen advertising at the airport appears with large-sized advertising screens that are usually hung in central locations. This form of advertising can be said to be the most vivid among all types of airport advertising. LED screen advertising at the airport not only has the large size of billboards but also has the light like lightboxes, and can also display moving images, video clips, and TVCs, not just static images like the above two types of advertising. However, along with these great advantages, the cost of LED screen airport advertising services will be much higher than the other two advertising methods at the airport.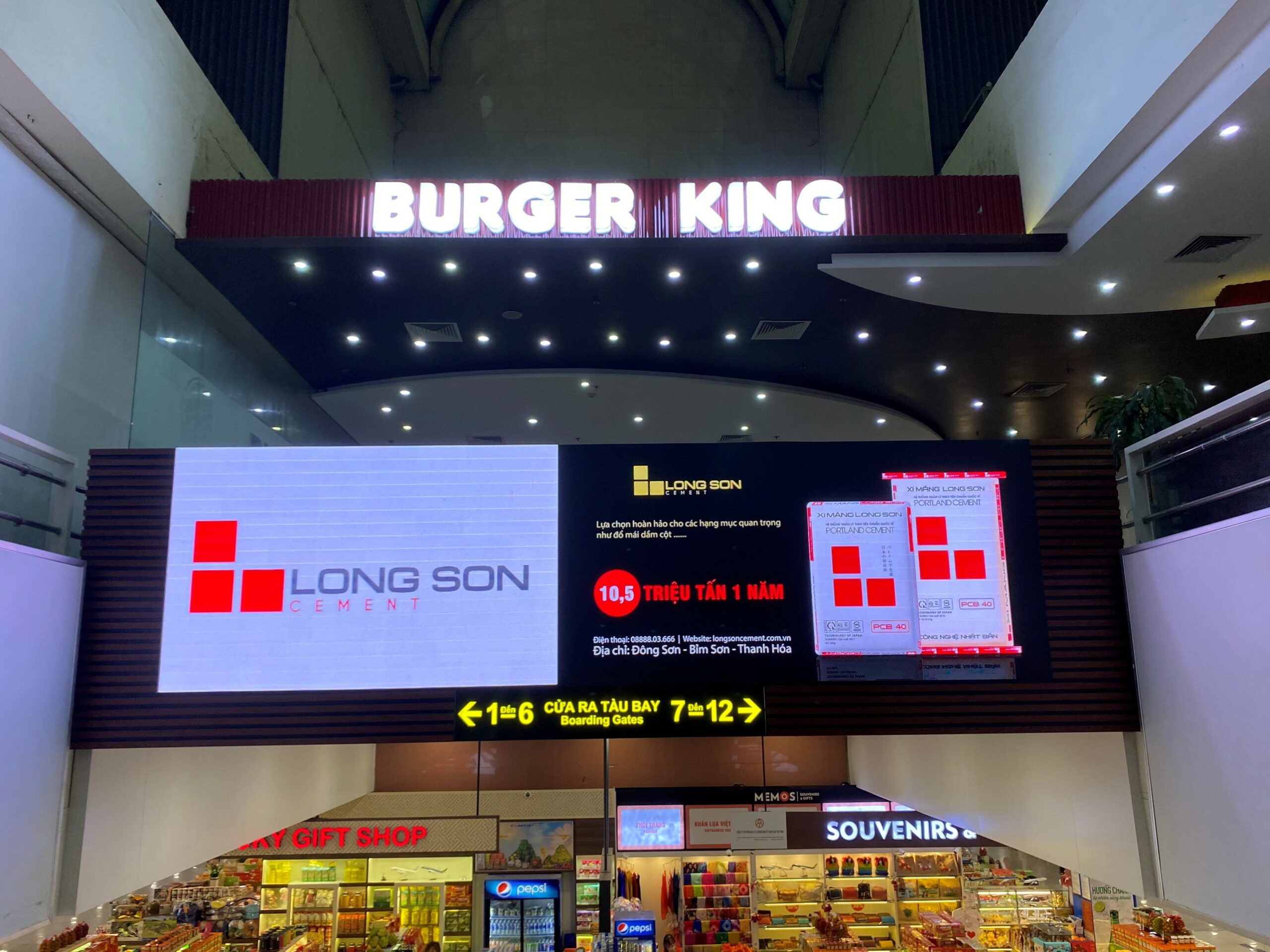 LED screen advertising is often installed at check-in, check-out areas of the airport, entrances and exits, or near the reception area. These are the busiest areas for passengers at the airport, and with prominent advertising images and sizes, the traffic (reach) of this advertising form is extremely high.
Advertising on luggage carts at airport
Advertising on luggage carts at airports is a highly creative form of advertising. When people arrive at the airport, they often have a lot of luggage to carry, so they use luggage carts to make it easier to move around. Decal advertisements are placed on these carts, making it impossible for users to avoid exposure to the ads. This form of advertising is less costly than other forms of airport advertising and is suitable for businesses looking to advertise at airports while keeping costs low.
Because of its low cost, many businesses want to invest in this form of advertising at the same time. To compete for coverage and frequency of exposure to customers, businesses should carefully consider the number of advertisements they want to deploy to ensure the effectiveness of their communication.
WiFi Marketing Advertising
WiFi marketing advertising targets individuals in need of free WiFi at airport areas. This form of advertising displays advertisements when customers try to connect to the WiFi network of the advertised business.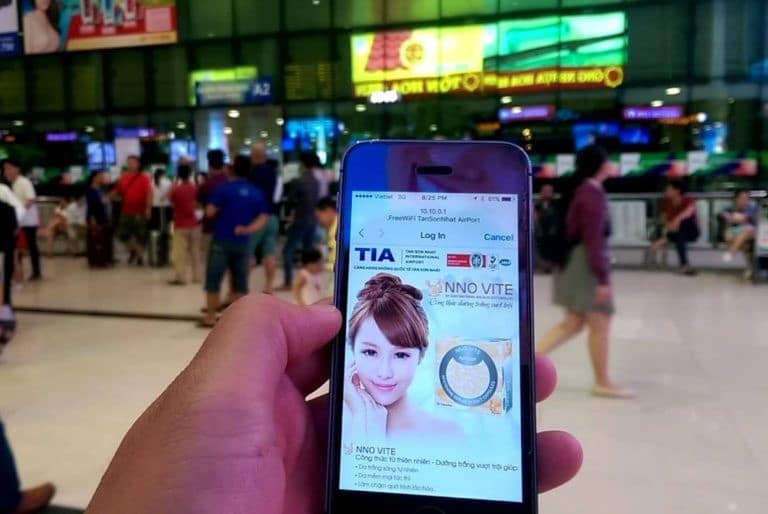 Because the waiting time at airports is usually long, averaging from 30 minutes to 3 hours, people's smartphones become their best friends. Therefore, many people want to access free WiFi at the airport. The biggest advantage of this form of advertising is that it does not require time-consuming construction or installation, making it a cost-effective and highly effective communication method.
Advertising on phone charging stations at airports
When observing at airports, it can be seen that free phone charging stations always attract a lot of people due to long flight times and the frequent occurrence of phones running out of battery for many individuals. Therefore, advertising on phone charging stations at airports is an ideal form of advertising. The time spent waiting for phone charging is also the perfect time for people to read and remember advertising information on phone charging stations at airports.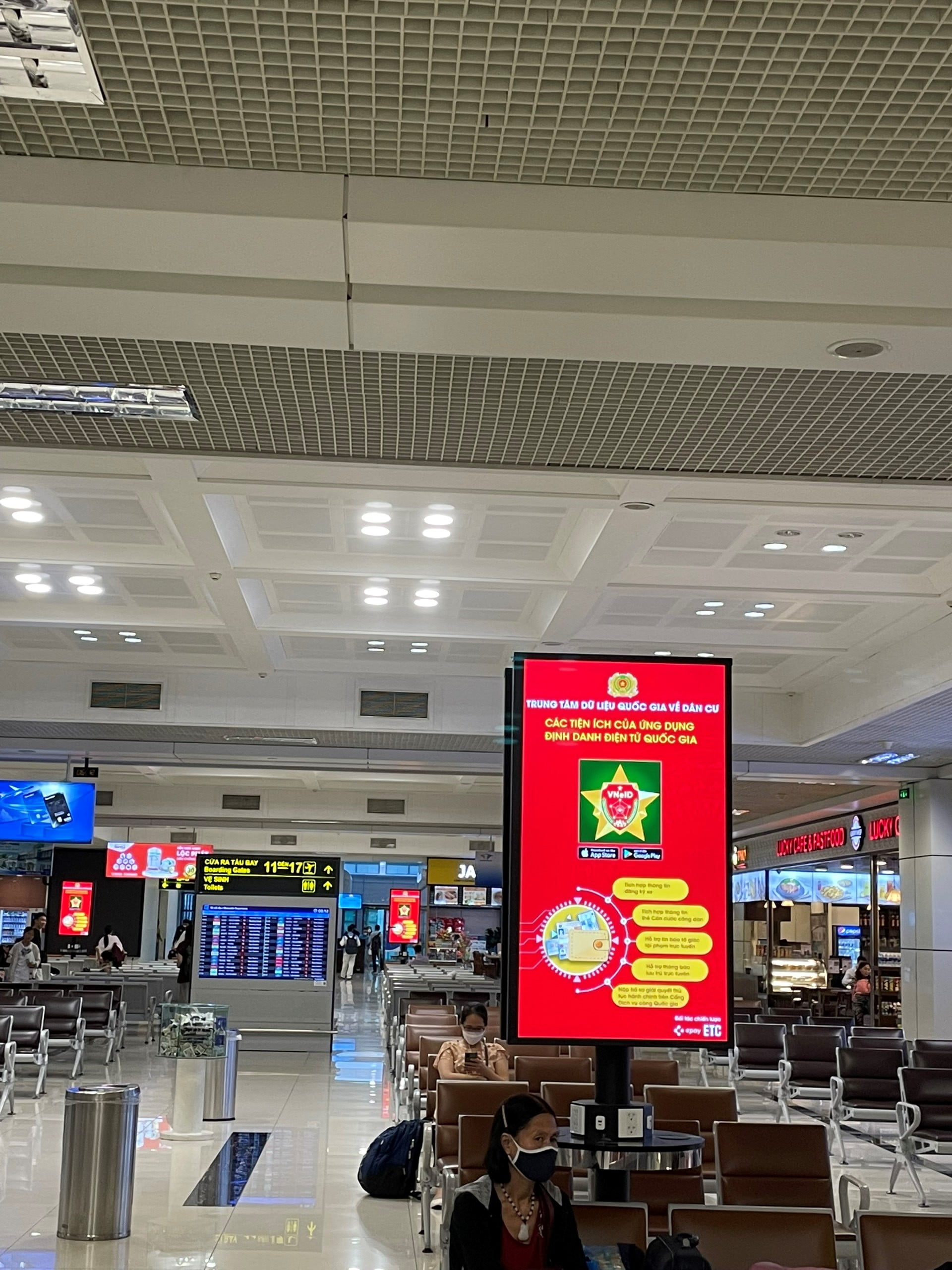 At phone charging stations at airports, advertising is typically broadcasted in the form of TV commercials, ranging from 15 to 30 seconds. This form of advertising has the outstanding advantage that customers will be exposed to the advertisement in close proximity and for a longer duration of time. Therefore, instead of advertising only creating impressions like other forms of advertising, customers exposed to this form of advertising will remember the advertisement longer, resulting in higher brand recognition.
Advertising on magazine racks at airports
Advertising on magazine racks at airports has the potential to reach airplane passengers very effectively. During the fairly long waiting time, magazines are the entertainment option of choice for many people, instead of, for example, phones running out of battery. At this time, advertising on magazine racks at airports will successfully reach those who come to choose magazines.
This form of advertising is not very popular nowadays, however, due to the low cost of advertising, it can be considered to combine with other forms of advertising at airports to increase the coverage of advertising and brand recognition.
Nextbrand Vietnam – Prestigious and professional airport advertising company
Selecting a trustworthy, highly specialized and experienced advertising company is a crucial factor in creating a successful airport advertising campaign.
As a leading communication agency in Vietnam, Nextbrand Vietnam always aims to bring satisfaction to our customers. We are ready to accompany our valued partners in their airport advertising campaign and any other advertising campaigns in general. Contact Nextbrand today for detailed consultation and the best discount rates!
Let Nextbrand Vietnam help your business reach more customers!
NextBrand Vietnam accompanies your success.
Contact information:
Nextbrand Vietnam Media Joint Stock Company
P 602, 6th floor, Chợ Mơ Shopping Mall, 459C Bach Mai Street, Hai Ba Trung District, Hanoi
Phone: (+84) 936 737 727 – (+84) 24 6668 0000