On the evening of November 2nd , 2019, at the 2019 ASEAN Business Awards (ABA) held in Bangkok, Thailand, the new generation Vietjet airline was honored: "The Best Enterprise in the Aviation Industry in Southeast Asia in 2019
On the evening of November 2nd , 2019, at the 2019 ASEAN Business Awards (ABA) held in Bangkok, Thailand, the new generation Vietjet airline was honored: "The Best Enterprise in the Aviation Industry in Southeast Asia in 2019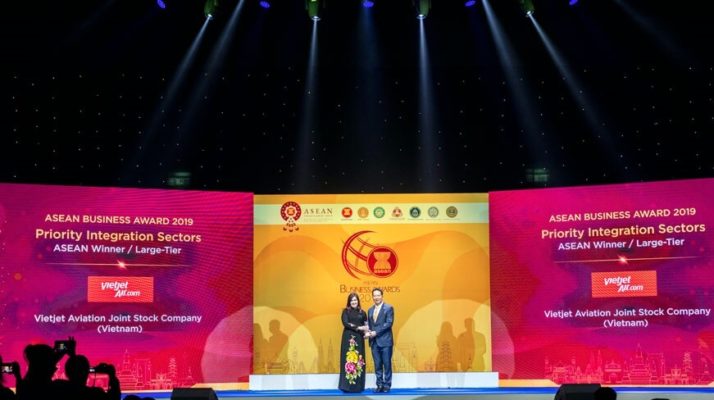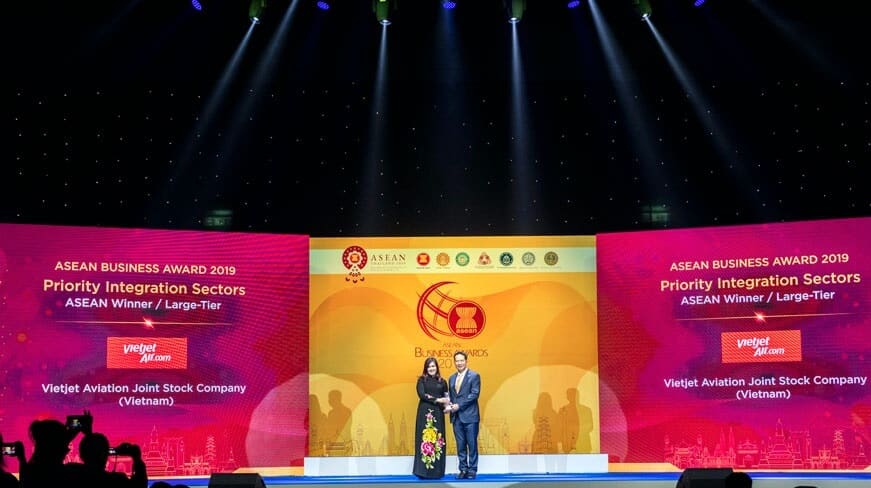 The ASEAN Business Awards (ABA), organized annually by the ASEAN Business Advisory Council, began in 2007 to honor outstanding and successful businesses and entrepreneurs who have made great contributions to economic development and the common prosperity of ASEAN; At the same time, it is the information platform in the ASEAN Common Economic Community (AEC), promoting regional and international integration. Aviation is one of 17 important fields awarded including agriculture, finance, automotive, aviation, ICT, textiles, tourism …
There, Vietjet impressed the Council through its contribution to the process of integration and connection of sky between countries in the region and the world. The award "The Best Aviation Industry in Southeast Asia in 2019" also recognizes the wide brand coverage in the region and in the world as well as Vietjet's outstanding business results.
At the ceremony, Ms. Ho Ngoc Yen Phuong represented Vietjet's new generation airline to receive this award under the witness of Mr. Anutin Charnvirakul – Deputy Prime Minister of Thailand and senior leaders of the Thai government and other countries ASEAN.
She said that with the modern fleet, Vietjet can now operate an average of 400 flights per day with many new routes to be opened from ASEAN to North, Central Asia and Western countries.
With this figure, we can see that Vietjet's new generation airline has shown its efforts in developing trade, connectivity and tourism while contributing to the growing ASEAN community strong.
Before the new generation of Vietjet Air reached the TOP "Best Airline Business in Southeast Asia in 2019", at the ABA Awards Ceremony in 2018, Ms. Nguyen Thi Phuong Thao – General Director of Vietjet was also honored. The award for Outstanding Entrepreneur in the ASEAN region & the Outstanding Entrepreneur Award in Vietnam by the President of Singapore and the Chairman of ASEAN Business Advisory Council.
According to our research, Vietjet is currently rated 7 stars – the highest in the world in aviation safety, the top 50 best airlines in the world in terms of operation and financial health in 2018, 2019 – AirFinance Journal, at the same time Vietjet new generation airline continuously received the award for the best low-cost airline. This is the airline of the people, Vietjet always opens new routes to bring many opportunities to travel by air with the cost savings for the entire population. With the spirit of "Safe – Fun – Cheap – Punctuality", Vietjet is proud to bring passengers interesting experiences on board with smooth leather seats, delicious food, beautiful, friendly flight attendants and Many other modern utilities.
Aviation is currently one of 17 important areas awarded: aviation, ICT, textiles, cars, tourism, finance, …
View more:
Advertising vietnam airport advertising
Advertising Noibai Airport Service
Advertising Tan Son Nhat Airport
-According to: Nextbrand collected and compiled-
🏠 Nextbrand VIET NAM
Address: Room 602, Mo Market Trade Center No. 459C, Bach Mai Street, Truong Dinh Ward, Hanoi
➡️Hotline: 0936 737 727 | 024 6668 0000
➡️ Website: nextbrand.com.vn