Businesses have need of advertising at the airport, but do not know what kind of advertisement is appropriate. How much does it cost? This article will inform you the current advertising prices at the airport and some common types of advertising in Viet Nam.
How much are the advertising prices at the airport in Viet Nam?
To answer this question, I think you should search "NextBrand Viet Nam Media" on the Internet. Because It is a media company, which offers a variety of airport advertisements in Viet Nam. You can install your advertisements in Noi Bai Airport, Da Nang Airport, Tan Son Nhat Airport, and so on. Nextbrand will ensure the quality and price of the advertisement and advise you on the right types of advertisement.
Several types of marine tables Nextbrand offers:
Lightbox is a type of smart advertising signs using the standard Multi-sided Lightboxes or attaching light bars.
Billboard is a type of large-sized advertising with the structure of a billboard, a steel pillar with a deep, solid concrete foundation. Billboard is usually located on highways, highways, airports, etc., places where there is a lot of traffic and large space to meet the needs of its large size. without affecting the surrounding environment.
Pano: the panel has a simpler structure than billboard, no pillars and concrete system, only billboard surface and hanging bracket or bracket to clad to the wall surface.
Advertising stands are one of the extremely useful advertising materials, they are frequently used by investors, businesses and companies in advertising campaigns, marketing and introducing new products to customers.
LCD advertising is the method chosen by many businesses because of its ability to provide complete information and attract customers' attention. LCD screens are installed at all customer-focused locations at the airport such as waiting rooms, ticket check in areas, ticket counters, gates, … Businesses can also choose different types of monitors depending on the budget for the campaign such as video wall screens, stand screens, wall screens.
Based on the advertising location, we provide you with a basic airport advertising price list of NextBrand at Noi Bai Airport:
Position
Types of advertisement
Quotation
Luggage trolley
Stick Backlist Film Double-sided glossy, no

fade, waterproof, mika cladding.

Contact
Parking lobby A – B
Lightbox advertising
Contact
Public Area_International to A – B
Lightbox advertising
Contact
Baggage Drop Area_International to A-B
Lightbox advertising
Contact
Public Area_ Domestic to A
Lightbox advertising
Contact
Baggage Drop Area_ Domestic to A-B
Lightbox advertising
Contact
Vietnam Airlines Check-in Counter Area
Trivision, Decal
Contact
Passenger bridge_ Domestic to A-B
Decal through light
Contact
Quarantine Area_International travel D
Lightbox advertising
Contact
Baggage Drop Area_ Domestic to E
Lightbox advertising
Contact
Public Area 1-3 floors
Wall pannels
Contact
Public Area 1-4 floors
Decal elevator door stickers
Contact
Check-in area
Standee
Contact
Led screen 200
TVC; Slide; Short Movie; …
Contact
Advertising prices at Noi Bai Airport
The airport advertising price list also depends on other factors such as location, size, material … Therefore, please contact Nextbrand for a detailed quotation that suits your requirements.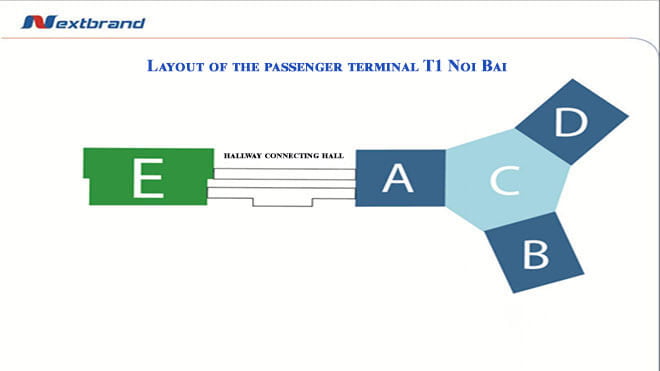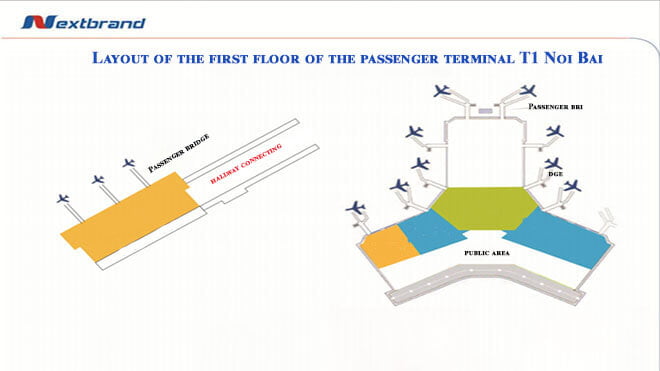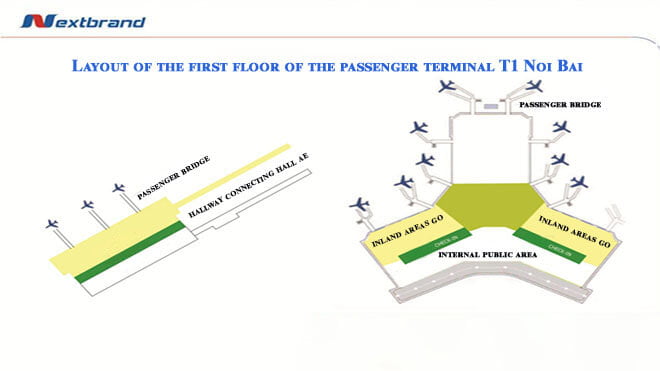 Is the advertising price at the airport too high?
At present, the world is more and more developing,concentrating on new and more effective types of advertising. In modern life,humans do not have time to pay attention to advertising on television ornewspaper publications. Therefore, airport advertisements are a chance of brandadvertising.
Moreover, there are 900.000 flights, 29,2 millionpassengers. Besides, the number of passengers increased by 13,2% compared to 2018.Therefore, if businesses advertise at the airport, they will attract a lot ofpotential customers.
Overall, although the advertising price at the airportis quite high, benefits of airport advertisement are also no less. Therefore,if you want to reach many customers and your finances are stable, you should chooseadvertisements at the airport.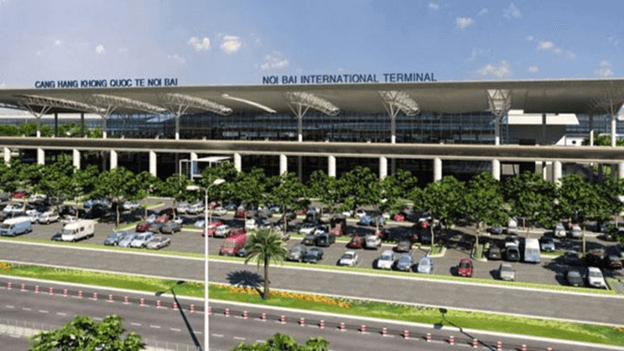 Nextbrand provides professional airport advertising services in Vietnam:
Nextbrand is an agency specializing in providing services and consulting solutions for airport advertising campaigns for businesses. Advertisers requiring to lease a location or implementing advertising campaigns at the airport can contact Goldsun directly for detailed advice.
Hotline: 0936 737 727 | 024 6668 0000
Address: Room 602 Cho Mo Plaza No. 459C Bach Mai Ward Truong Dinh Ha Noi
Email: info@nextbrand.com.vn
Website: https://nextbrand.com.vn/