US television CNN reported that Vietjet Air has launched the 'SKY COVID CARE' insurance package – if customers are infected with Covid-19 on any Vietjet flight, they will be compensated VND 200 million.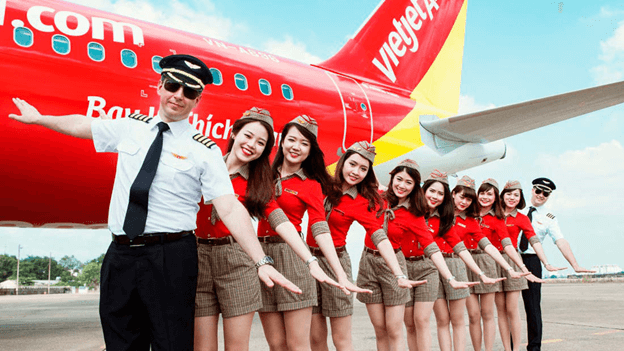 While the major airlines in the world are struggling with the suspension of flights because of Covid-19, an airline in Vietnam has a very different approach. That is Vietjet Air.
The airline offers an insurance package called 'SKY COVID CARE' that allows customers to be requested to receive up to VND 200 million for Covid-19 infection on Vietjet Air flights. This insurance package is free of charge, applicable to Vietnam domestic flights from March 23th – June 30th , 2020 and according to Vietjet Air, it will provide assurance for passengers when flying.
Information on the above mentioned insurance package has also appeared on the official website of Vietjet Air. Accordingly, with the 'SKY COVID CARE' package, each passenger can enjoy insurance and support benefits from Vietjet within 30 days from 00:01 of the flight date, regardless of passengers. infected from COVID-19 from any source. Also according to the announcement of Vietjet Air, tens of billion dong of insurance premium will be paid by Vietjet to bring more peace of mind to customers on flights.
To be offered this insurance package, passengers need to provide full information as prescribed in Vietjet's 'Conditions of carriage' when buying air tickets and using air services; and comply with all disease prevention regulations of the company, the Ministry of Health and the authorities.
Thus, with the announcement of Vietjet Air, those people were positive for Covid-19; violating the safety regime for the prevention of acute respiratory infections COVID-19 prescribed by the Ministry of Health and competent agencies in Vietnam; violating the blockade, isolation and travel ban orders issued by the authorities will not be entitled to the benefits of the above-mentioned insurance package. In addition, people with epilepsy, mental illness or inaccurate personal information, etc. are not entitled to the benefits of 'SKY COVID CARE'.
To date, Vietnam has recorded 149 cases of Covid-19. According to CNN, this is not the first time Vietjet Air – the airline has 13 domestic destinations and 7 international destinations making controversial decisions. In 2018, Vietjet Air was fined VND 40 million by the Department of Aviation and encouraged the airline to take responsibility for air transport for organizing a bikini performance on the plane that brought the U23 team of Vietnam home.
Currently, some airlines in Vietnam such as Vietnam Airlines, Bamboo Airways, have stopped international flights due to Covid-19. However, Vietjet Air is the exception when it will make more flights from Hanoi to Tokyo and vice versa on March 31st , April 2nd and April 4th . Domestic flights in Vietnam are still operated by airlines.
-According to: Nextbrand collected and compiled-
Source: https://www.tapchihangkhong.com/hanh-khach-vietjet-neu-nhiem-ncov-duoc-boi-thuong-200-trieu-dong-ap-dung-tu-23-3-30-6-2020/
View more:
Advertising vietnam airport advertising
Advertising Noibai Airport Service
Advertising Tan Son Nhat Airport
🏠 Nextbrand VIET NAM
Address: Room 602, Mo Market Trade Center No. 459C, Bach Mai Street, Truong Dinh Ward, Hanoi
➡️Hotline: 0936 737 727 | 024 6668 0000
➡️ Website: nextbrand.com.vn