In-flight advertising is an extremely powerful communication channel, effectively supporting businesses in their brand promotion campaigns to consumers. Currently, this is also one of the most classy communication channels in the field of outdoor advertising.
Let's find out with Nextbrand Vietnam what all the information about advertising on the plane is, what are the hot forms of in-flight advertising today, the attractive advantages of the airplane advertising channel as well as some notes when deploying. declare and quote the latest on-board advertising prices… through the following article.
What is in-flight advertising?
Aviation is one of the key economic sectors that Vietnam has always focused on investing in. In recent years, the development speed of the aviation industry in Vietnam has grown tremendously, opening up many opportunities for economic integration and exchange.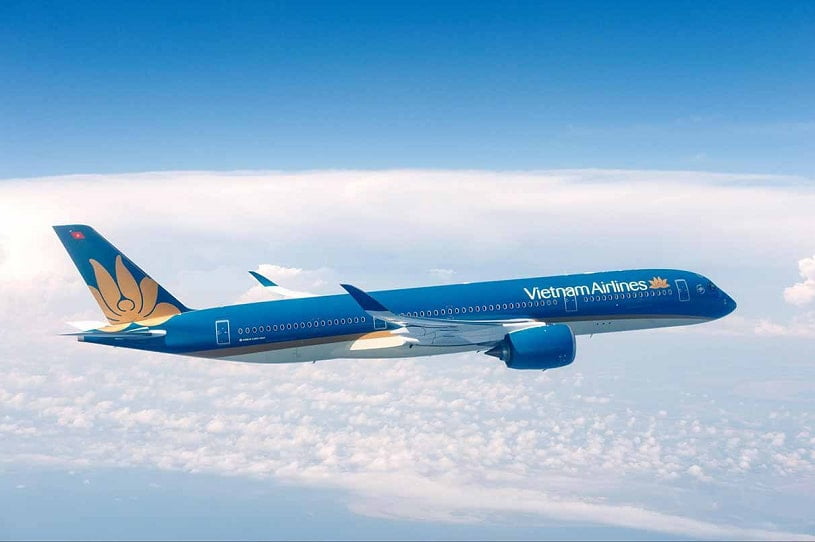 Grasping the development trend and advantages of the aviation industry, most airlines are now engaged in the field of providing in-flight advertising services, such as Vietnam Airlines, Vietjet, Bamboo , Jetstar, AirAsia…
So what is in-flight advertising? In-flight advertising is a form of placing advertisements on prime locations on the plane to promote a brand's brand. Businesses have a lot to choose from as advertising can be deployed both inside and outside the airplane.
On-board advertising is aimed at the high-end customer segment, so it is often suitable for fields such as finance, real estate, supercars, jewelry, tourism, and resorts…..
Top 8 most effective ways to advertise on airplanes
Businesses can choose to deploy advertising on the plane with a variety of forms. Each form has its own characteristics and approach to different customers. Let's find out with Nextbrand Vietnam the top 8 hottest forms of in-flight advertising today:
More: Everything you need to know about advertising prices at the airport
Advertising on the fuselage
This is a form of advertising that can reach viewers from many different locations and directions. With the advertising image spray painted on the plane is extremely classy and impressive, able to operate despite harsh weather conditions, businesses must spend a huge budget to be able to book this type of advertising.
The audience that this advertising method reaches are passengers who are at the airport waiting for departure, those who go to pick up relatives, friends, or taxi drivers to pick up passengers … present at the airport for a period of time.
Advertising LCD screens on airplanes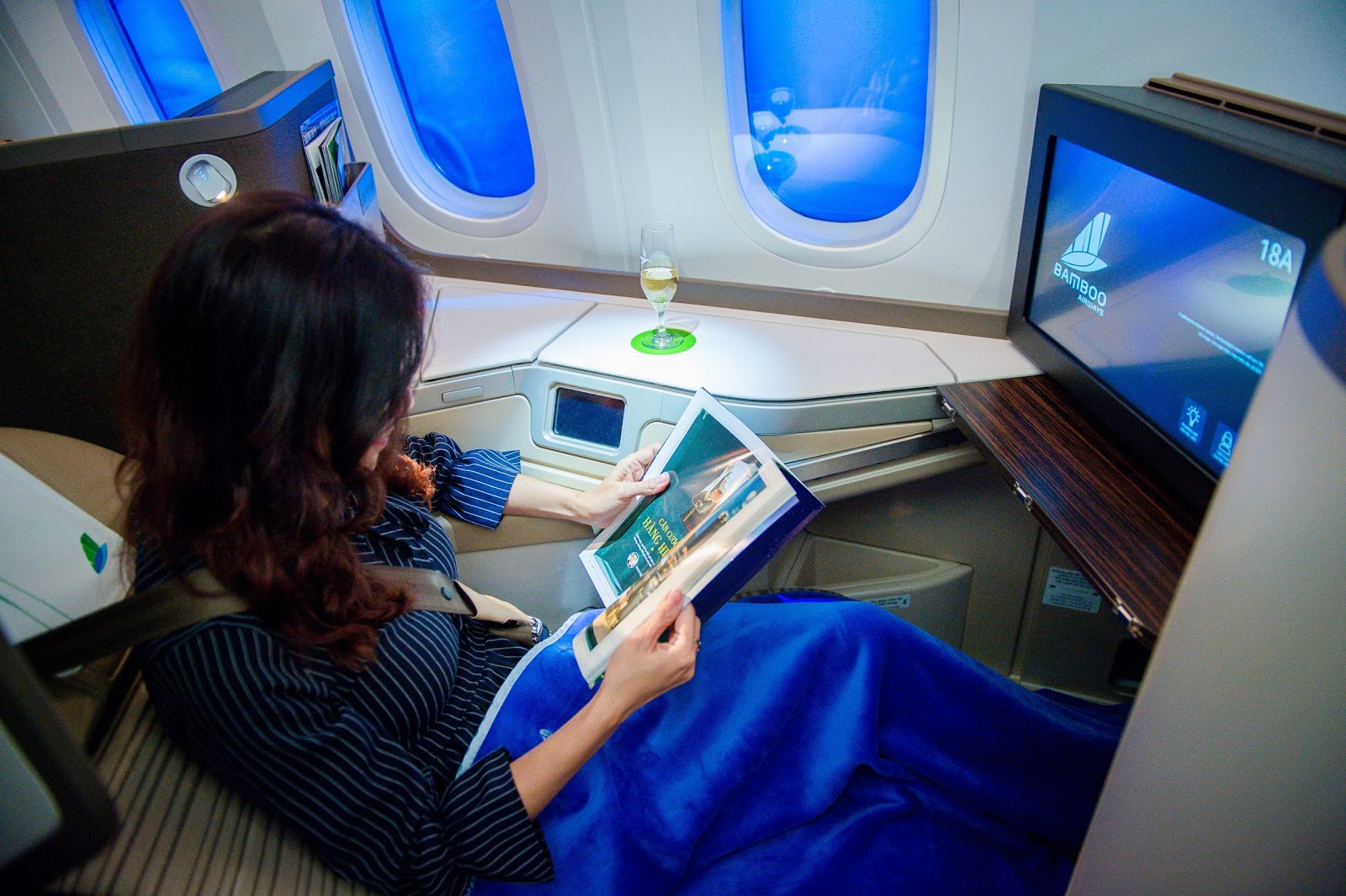 This is a form of TVC advertising on the LCD screen system installed behind each passenger's seat. Normally, the time of each flight will last from 1-3 hours (maybe longer if flying internationally), during that time, the LCD screen will play videos and movies to serve passengers with duration of 15 – 30 seconds, interspersed with many attractive content.
Note: In order for advertising to be broadcast synchronously, businesses should book a whole LCD screen in the aircraft cabin and can be broadcast when passengers board the plane, when preparing to take off and land.
Advertising on the dining table behind the chair
Each passenger on the flight will have a dedicated dining table that is intelligently designed and installed, which is attached to the seat in front to save space. Not only that, the entire space on this dining table is also used to paste advertising maquettes for the brand's products and services
Advertising on the dining table behind the plane seat can reach customers from a very close distance, even passengers can touch the advertising decals pasted on it, increasing direct interaction, from The brand will be more deeply remembered by customers.
Note: Just like advertising LCD screens, with this form, businesses should book ads on all rows of seats in the plane to ensure brand synchronization and increase coverage.
Advertising on airplane seat covers
Each seat in the cabin is covered with a towel to help passengers feel relaxed when leaning on. Businesses can also take advantage of these towels to promote their brands. However, the area of ​​the cover is quite small, businesses should only print the logo or the most important content on it.
With this form of advertising on the headband, the brand can directly interact with passengers at close range during the time from the moment they step on the plane to the time they land.
Note: Businesses should deploy headscarve ads on all rows of seats in the cabin to increase brand awareness and impress passengers on the flight..
Advertising on paper cups for drinking water
Advertising on paper drinking cups is a very effective and smart way of communication. With this form, the business will print the logo, image of the brand and product on the outer shell of the drinking paper cup. Every time a flight attendant serves a free drink to a passenger, the brand has the opportunity to approach customers from a very close distance.
Distributing sampling and flyers on the plane
With this form, businesses will print advertising content on flyers and samples, after passengers have settled in, the flight attendants will go to each place to distribute leaflets. as well as trial samples.
Distributing sampling and flyers on the plane is a form chosen by many businesses because of its relatively affordable cost, which can be deployed in large numbers at the same time to increase communication efficiency.
Advertisement on airline tickets
Airline tickets are an indispensable item for each passenger, they are required to keep their tickets carefully from check-in to safe landing. Therefore, advertising on airline tickets will help the image of the brand imprint in the minds of passengers in the most natural way. Businesses can print logos, images and information of the brand on the envelope attached to the ticket or on the back of the ticket.
Airplane magazine advertisement
With an hour-long flight, passengers often tend to look at magazines to update information as well as entertain and kill time. Brands can book a few items on magazine pages, usually PR articles or eye-catching print ads to promote the brand's brand.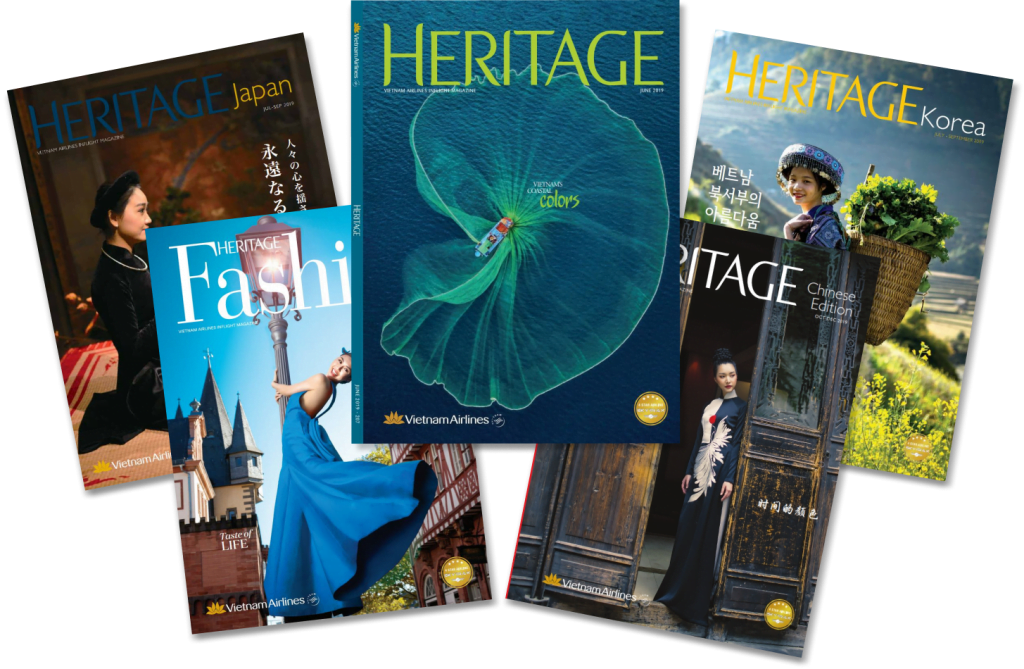 There are three most popular airline magazine brands: Heritage (Vietnam Airline), LOOK (Bamboo Airways) and One2Fly (Vietjet Air).
Not only that, the form of advertising in aircraft magazines also opens up countless opportunities for cooperation and business with large corporations, especially on business class flights where many directors appear. , domestic and international entrepreneurs.
What should businesses pay attention to when deploying advertising on airplanes?
Businesses and brands that want their on-board advertising campaigns to run smoothly and effectively can refer to some of the notes that Nextbrand gives below.
Deploying ads at the same time to increase brand awareness
The locations on the plane are all arranged in rows, neat and synchronous, so when choosing to deploy any form of advertising on the plane, businesses should also deploy them simultaneously to show off. professionalism, avoiding clutter, causing loss of aesthetics and distracting passengers' attention.
For example, businesses can book a series of LCD advertising screens to broadcast TVC at the same time, or stick ads on all rows of dining tables behind the seats so that every passenger can see it even when sitting front or back row seats.
Design appropriate advertising images
The design of advertising images on the plane plays a very important role. Enterprises need to determine which form of advertising aircraft will deploy to design appropriate advertising maquette. This not only helps advertising messages reach customers more effectively, but also significantly saves advertising budgets for brands.
For example, with the form of advertising on paper cups, head coverings on airplanes, the advertising space is quite limited, businesses should only print logos or short and concise slogans for customers to easily observe.
In the form of advertising on the fuselage, or advertising on the lid of the luggage compartment, the brand can unleash creative maquette design because the advertising area is quite large.
Carefully consider the advertising budget
It can be said that advertising on the plane is the most expensive communication channel in the field of outdoor advertising, including many complicated stages of implementation, if you do not understand the implementation process, it is easy to lose time. budget cost.
Nextbrand Vietnam with many years of experience in the field of outdoor advertising advises businesses to consult aircraft advertising quotes of reputable and professional companies to balance the budget, avoid waste but effectively recover is not as expected.
Nextbrand Vietnam – Prestigious and professional in-flight advertising company
With the outstanding advantages and communication advantages that the in-flight advertising channel brings, more and more brands are choosing various forms of aircraft advertising to affirm their level and raise the brand's level.
Nextbrand Vietnam – A company specializing in providing reputable and professional in-flight advertising services. We have many years of experience in the field of outdoor advertising and are proud to be the leading partner of major airlines such as Vietnam Airlines, Bamboo, Vietjet Air, Jetstar Pacific…
Contact Nextbrand today for the latest in-flight advertising and outdoor advertising quotes.
Head office:  Room 602, Cho Mo Trade Center, 459C Bach Mai, Truong Dinh, Hai Ba Trung, Hanoi
Tel: 024 6668 0000
Hotline: 0936 737 727
Email: info@nextbrand.com.vn